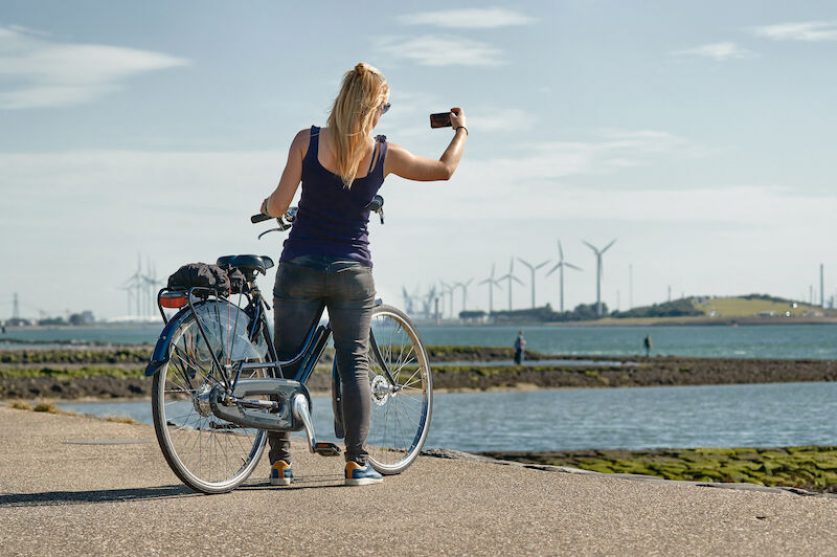 Young Scots are so in favour of wind farms they're featuring them on their social media pages, a new survey commissioned by Scottish Renewables has found.
45% of Scots aged 16 to 24 report they've snapped a photo of a wind farm. That's more than a quarter of a million shots of the country's wind turbines.
While they're largely in favour of renewable energy—90% of survey respondents believe renewable energy technologies like wind farms have a role in tackling climate change—young Scots mostly just like how wind farms look.
Three-quarters reported that they took photographs of wind turbines because they like their appearance. Many have given wind farms a place in their Instagram grids, a carefully curated selection of photographs. One wind farm alone—Scotland's largest, Whitelee, south of Glasgow—has been tagged on Instagram 13,000 times.
Trade body Scottish Renewables welcomed young people's enthusiasm for renewable energy, even if it involves selfies.
Chief executive Claire Mack said: "The young Scots questioned as part of this survey are people who will be most affected by climate change in the near future so it's hugely encouraging that they are so positive about renewable energy's role in tackling its effects before they happen."
Scotland's youth are overwhelmingly in support of onshore wind farms, which have been more controversial with older people. Two-thirds of Scots aged 16 to 24 back onshore wind, with just 7% opposed.
Onshore wind farms were locked out of government subsidies between 2016 and last year, as the Conservative party catered to its older, rural grassroots. That position was reversed last March, but onshore wind farms still have to clear higher hurdles in England, meaning most will be built in Scotland.
But previous research by Scottish Renewables suggested that the stereotype of rural residents opposing onshore wind farms has been exaggerated. In the autumn of 2018, the trade association conducted the first survey focusing on what people outside of urban areas thought about onshore wind farms. The research revealed that 66% of rural Scots support onshore wind energy, with just 11% opposed to new onshore wind farms. 22% said they didn't have an opinion or didn't know.

Last year renewables, including on- and offshore wind, met 97.4% of Scotland's electricity consumption, just shy of the 100% goal the country had set for 2020.