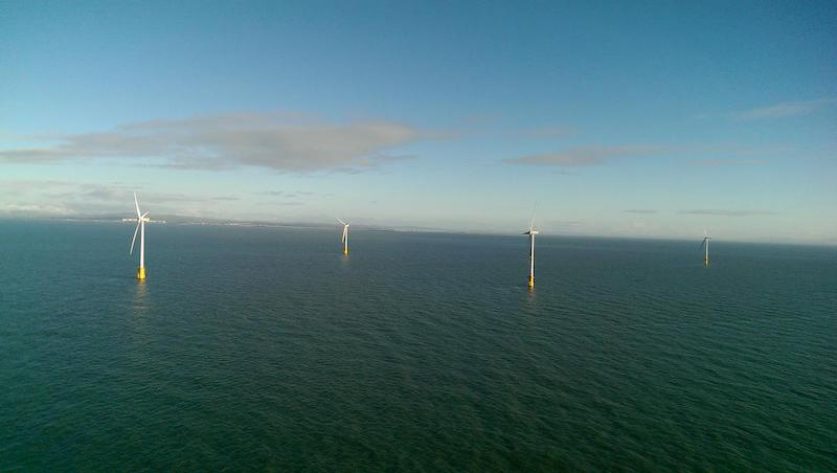 New energy giant Ovo has inked a new power purchase agreement (PPA) with an offshore wind farm, part of its ambition to back up its green claims with clean electricity bought directly from renewable generators.
The new deal is with Danish power company Ørsted to buy electricity directly from the offshore Barrow Wind Farm, a 30-turbine, 90MW installation off the coast of Cumbria in the Irish Sea. 
The agreement will mean 13% of Ovo's electricity is purchased directly from generators. Ovo has said it wants to increase that proportion to 40% by the end of the year.
Ovo Energy has offered "100% renewable electricity" to all of its five million customers for no additional cost since 1 October 2020. But like many putatively green energy suppliers, it largely uses Renewable Energy Guarantee of Origin (REGO) certificates. This means it buys energy generated with fossil fuels and then matches it with certificates originally sold by renewable generators and traded among suppliers. 
REGOs mean energy suppliers can claim to offer green power by paying as little as 93p per customer to renewable generators. Green campaigners argue that suppliers should enter direct contracts, called power purchase agreements (PPAs), with renewable generators, which give them the financial stability to fund large-scale installations.
Ovo admits that nearly half (48.1%) of its electricity is generated by natural gas, higher than the national average of 39.40%. 51.90% of the power it buys is generated by renewables.
Last year renewable supplier Good Energy, which itself has power purchase agreements with 1600 independent green generators, accused Ovo of "greenwashing" its energy tariffs.
"If you join OVO as one of their standard tariff customers, you're paying for electricity that is more carbon intensive than the average households," Ian McKee, senior communications manager at Good Energy, wrote in a blog post last June.
Ovo chief executive Ben Blake said: "In the future, we're committed to exploring how we can source more energy from renewable generation here in the UK, supporting the industry and helping to drive down costs."
Ovo became the UK's second-largest energy supplier when it purchased the supply arm of SSE for £500 million last year, gaining 3.5 million accounts in one swoop.
Meanwhile, Ofgem, along with politicians, the Energy Ombudsman and other suppliers, have expressed concerns that energy suppliers are misleading customers with green claims while relying on REGOs.
Matt Vickers, chief executive of the Ombudsman, which resolves disputes between energy suppliers and customers, said that it's "good to see more and more energy suppliers offering green tariffs, but it's vital that green claims can be backed up."
Andrew Ward, chief executive of Scottish Power, which sources all of its energy from its own renewable installations, said the supplier is considering making a complaint to the Advertising Standards Authority (ASA) about the marketing of "100% renewable" tariffs.