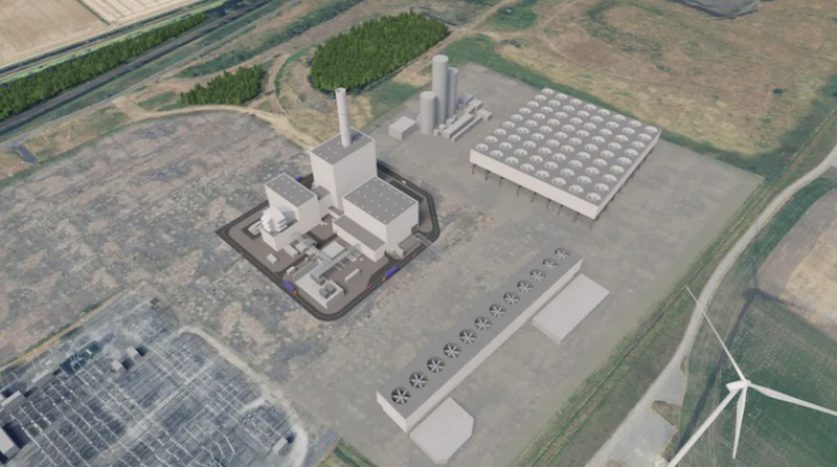 Equinor and SSE have unveiled plans for a power station entirely fuelled by hydrogen, a world-first that will be paired with one of the UK's first natural gas units fitted with carbon capture and storage (CCS) technology.
The Keadby Hydrogen and Keadby 3 plants will form a "clean power hub" near Scunthorpe, North Lincolnshire, making the region the first to use both hydrogen and CCS.
Keadby Hydrogen will run entirely on hydrogen, with a peak demand of 1,800MW, and produce no emissions at the point of combustion. Given the right regulatory environment, the plant could come online by the end of the decade, the developers said.
By that point, the 900MW Keadby 3's gas turbines will already be generating electricity, with carbon capture technology removing CO2 from the byproducts of combustion. The captured CO2 will be transported through pipelines and securely stored in the southern North Sea. The power station is expected to come online by 2027.
Once operational, the power stations will replace older, carbon-intensive generation on the electricity grid. They'll provide flexible and efficient power to maximise the usability of intermittent renewables and provide supply security as the UK transitions to clean generation.
The plants are being developed by Equinor, the Norwegian state-owned energy company, and SSE's flexible generation and energy storage arm, SSE Thermal.
Kwasi Kwarteng, Secretary of State for Business, Energy and Industrial Strategy, said: "The Humber region is at the heart of our commitment to tackle climate change and is already on the frontline of developing vital clean technologies which will change the way people's homes and businesses are powered while slashing emissions.
"This new partnership will ensure that world-first technology is being developed in Scunthorpe and across the Humber, creating green jobs and bringing new investment which will benefit local communities and businesses – revitalising this industrial heartland as the UK builds back greener."
The Keadby plants could provide some of the 49.5GW of flexibility Wärtsilä has estimated that the UK needs to transition to carbon-neutral power. The Finnish energy company has said an ideal, cost-effective scenario would see UK would combine energy storage with flexible gas power capacity fitted with carbon capture. The tandem use of battery storage and flexible gas power will make balancing the intermittency of renewables 38% cheaper than relying on energy storage alone, it said.