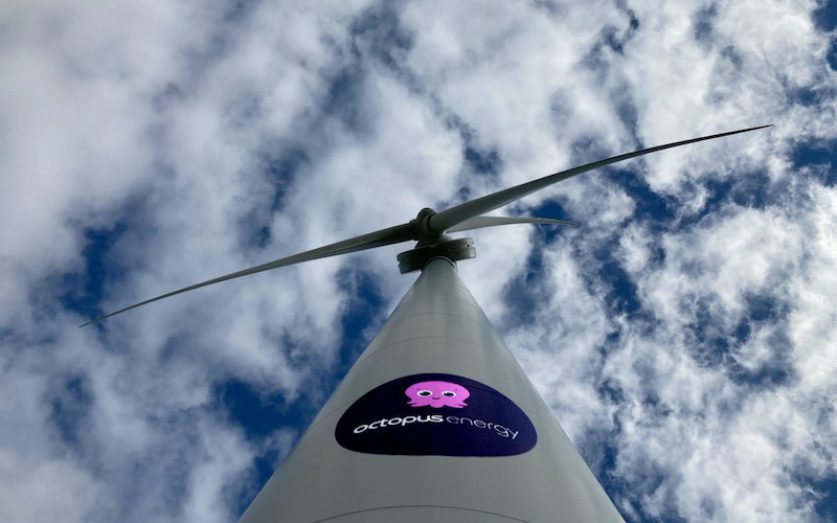 The Octopus Energy Group plans to raise £4 billion to fund the global expansion of its 'Fan Club' model, which offers households discounted electricity tariffs linked to renewable infrastructure nearby.
The energy supplier and renewables group's Fan Club tariff launched in January of this year, initially offering two communities in South Wales and East Yorkshire discounted electricity when their local Octopus wind turbine is generating electricity. Prices fall even lower when wind speeds pick up.
Octopus claimed these local, time-of-use energy tariffs were a "world first"—and now it wants to take them to the rest of the world. The group has already secured a £10 million investment to grow the number of wind turbines to eight and plans to raise £4 billion to fund even wider expansion of its local renewables pricing model.
Fan Club – The Collective will start by offering more communities discounted electricity from onshore wind farms in their area, eventually expanding to solar farms. By 2030, Octopus aims to supply around 2.5 million households with green electricity through Fan Club schemes. 
"We are pledging to create a whopping £4bn of people driven clean energy projects over the next decade," said Zoisa North-Bond, chief executive of Octopus Energy Generation, the arm of Octopus that will manage Fan Club – The Collective.
"In order to do that we'll be bringing the worlds of energy technology and institutional investment together, and opening up the opportunity for anyone who wishes to invest in energy projects.
"Our wind turbine tariff 'The Fan Club' has changed the way that people living near to them think about energy. By matching this generation with our proprietary technology platform Kraken, we're making sure that the cheapest electrons are also the greenest electrons and the ones to travel the shortest distance," she added.
Octopus pioneered time-of-use green energy tariffs in the UK
The expanded Fan Club is part of the group's wider ambition to install 18GW of clean energy capacity by 2027—enough to power 10 million homes.
Octopus already has 2.8GW of clean energy assets, a portfolio valued at £3.4 billion. It also supplies 1.8 million households in the UK through its retail energy arm and is in the process of absorbing 580,000 customers abandoned by the collapse of Avro Energy as a result of the gas price crisis–a move that will consolidate Octopus as one of the UK's largest energy challengers.