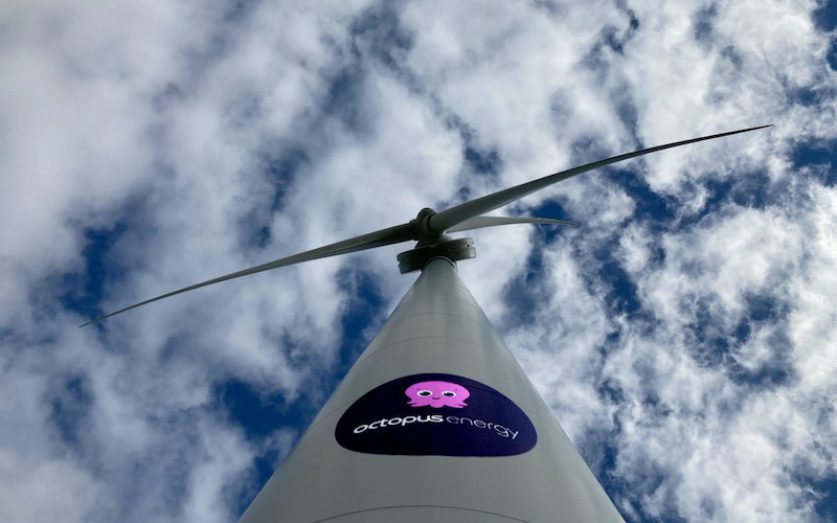 Customers living close to wind turbines in South Wales and East Yorkshire will their electricity costs fall on windy days with a pioneering energy tariff from green challenger Octopus.
Octopus Energy claims its new Fan Club tariff is a "world first"—a local time of use tariff that gets cheaper as wind speeds rise.
The tariff is available to those living close to wind turbines in Caerphilly, South Wales and Market Weighton, East Riding of Yorkshire which were recently acquired by the energy supplier. They'll see a 20% discount on their electricity unit price when the turbines are spinning, which is about 98% of the time, according to Octopus.
When wind speeds increase—to above 10.8 metres per second in Caerphilly and above 8m/s in Market Weighton—the unit price discount will increase to 50%.
These discounts mean that compared to the price cap on default tariffs, currently set at £1,042 for a dual-fuel household with typical use, households in the Fan Club can save up to £299 on their energy bills.
The Fan Club, which requires a £1 per week membership payment, is available to all households in the YO43, CF81 and NP24 postcodes from this month.
The tariff is inaugurating Octopus' first-ever "own brand" wind turbines—dubbed #1 Fan and #2 Fan—and its new venture into electricity generation.
Zoisa Walton, director of Octopus Energy Generation, said: "It means we can begin producing the clean, green power we provide to customers ourselves and incentivise customers to use energy when it's the absolute greenest."
She says the company plans to invest in further generating capacity and roll out local time of use tariffs across the country.
"By matching this generation with our proprietary agile technology, we're unlocking exciting opportunities for the cheapest electrons to be the greenest. Soon local customers will be able to join the 'Fan Club' and get discount prices for windy days, helping out their pockets and the planet," she added.
Octopus, which supplies 1.8 million households in the UK, recently became a "double unicorn," attaining a valuation of $2 billion following a $200 million deal with a Japanese utility firm.