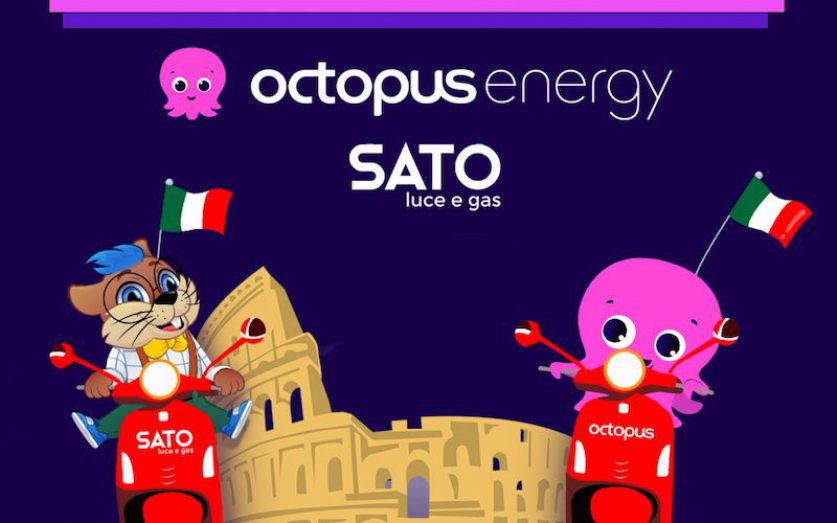 As its British rivals go under, cash-flush and ambitious Octopus is expanding into the Italian energy market, acquiring supplier SATO Luce e Gas.
Octopus will pump €60 million (£50.6 million) into SATO Luce e Gas (Light and Gas) and lend its Kraken platform to create Octopus Energy Italy. They aim to sign up one million Italian households—5% market share—by 2025.
Octopus also says the venture will support Italy's plan to increase green energy: the government has pledged to generate 55% of its electricity from renewables by the end of the decade.
SATO Luce e Gas was founded in 2003 and currently operates in 11 Italian regions with "thousands" of supply customers. SATO and Octopus hope they can shake up the stagnant Italian energy supply market.
Giorgio Tomassett SATO chief executive, said: "In SATO we speak directly to customers every day and we know for a fact that many Italians—especially the 40% of households who have never switched—are still treated as numbers by their current energy provider.
"Together with Octopus Energy we will make this approach to customer service a thing of the past, and we will make sure to give Italians a credible alternative, while also helping people decarbonise their homes and join the renewable energy revolution," he added.
Greg Jackson, Octopus chief executive and founder, said: "We have high ambitions for Italy, and we've found an amazing team to grow our business and lead the green energy revolution in Italy from the front."
Jackson pointed to Octopus's success in other foreign markets, including a venture in Germany that has grown its customer base by a factor of six over the last year and a US project that has quintupled its accounts over the same period. Through its retail business, renewable generation portfolio and Kraken platform, Octopus has a presence in 12 countries on four continents. This includes a venture recently launched in Spain with the acquisition of Valencia-based energy startup Umeme Energía and a deal inked at COP26 to build a smart green energy grid across Belgium and Germany.
At home, Octopus has grown to 3.1 million customers, making it Britain's fifth-largest supplier, and recently agreed to rescue toppled Avro Energy's 580,000 customers.
While other British challenger suppliers, most notably Bulb, have floundered or gone under during the recent surge in wholesale energy prices, Octopus has drawn fresh investment on the strength of its cloud-based energy technology platform Kraken and its renewable energy platform. In September, it received a $600 million (£438 million) injection from Al Gore's Generation Investment Management. That investment took Octopus's valuation to $4.6 (£3.6) billion.

Octopus recently announced it wants to take its "Fan Club" model—giving households discounted energy linked to local renewable generators—worldwide.