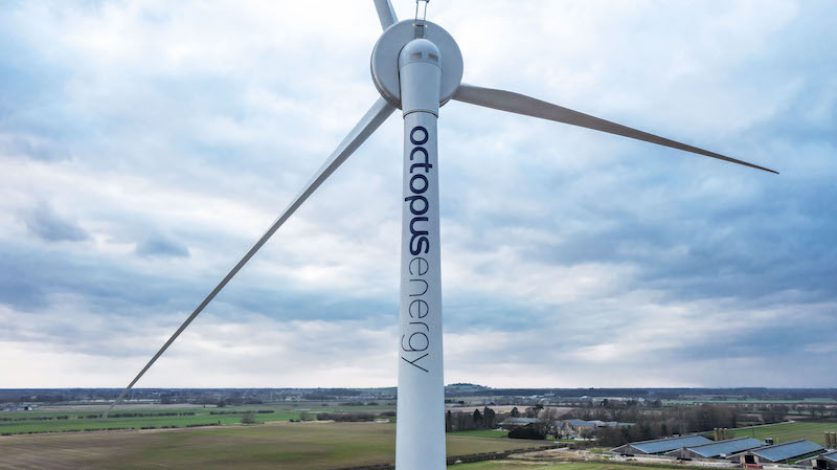 A US$300 million investment from the Canada Pension Plan (CPP) Investment Board will allow British company Octopus to expand its Kraken platform and boosts its valuation to $5 (£3.77) billion.
The investment will also help Octopus push its Fan Club model, an innovative energy tariff that supplies households with electricity from local renewable infrastructure, with discounts when generation is high. Octopus hopes to eventually raise £4 billion to expand the model worldwide and supply 2.5 million households. Financing from CPP Investments will fund the installation of 30 more wind turbines, in addition to the two already operational and six previously announced.
The investment from CPP—the second major investment Octopus has won in the last few months—shows the startup is financially robust despite the chaos in Britain's retail energy market, which has toppled 26 rivals.
Deborah Orida, the global head of real assets at CPP Investments, said the deal with Octopus is "a perfect example of how investors can work with leading tech-enabled energy companies to digitally disrupt the global energy system and support the evolution to a low carbon world."
Greg Jackson, Octopus founder and chief executive, praised CPP Investments as a "global force in energy investment."
"Innovating new ways to accelerate investment into the renewable energy revolution is vital to delivering governments' net zero goals," goals this partnership supports, he said.
Octopus' innovation is its proprietary Kraken technology platform, which harnesses machine learning to digitally manage energy supply and electricity generation, enabling the low-cost, flexible and efficient use of renewable energy. It enables Octopus to offer innovative time-of-use energy tariffs, which get cheaper when it's windy and sometimes even pay consumers to use energy to help balance the grid.
Octopus serves its three million British customers through the platform, which has also been licenced to rivals EDF, E.ON UK and Good Energy and retail suppliers across the world, including in Australia, New Zealand, Japan, Spain, Italy and the US. Collectively, it supports 25 million energy accounts and manages 3GW of renewable assets. Octopus hopes Kraken reaches 100 million customers worldwide by 2027.
To supply these customers, Octopus has a portfolio of 300 renewable energy projects across six countries, generating enough green electricity to power 1.2 million homes.
Founded just six years ago, Octopus has quickly catapulted to a major British energy supplier and renewable generator and one of the country's most high-profile and successful startups. Its now valued at US$5 billion, just 18 months after it first became a unicorn (a $1/£1 billion startup).
In September, Octopus announced that Al Gore's Generation Investment Management will pour $600 million (£438 million) into the company to fund the global growth of its green energy solutions. In November, it announced its entry into the Italian energy market, with the acquisition of retailer SATO Luce e Gas.