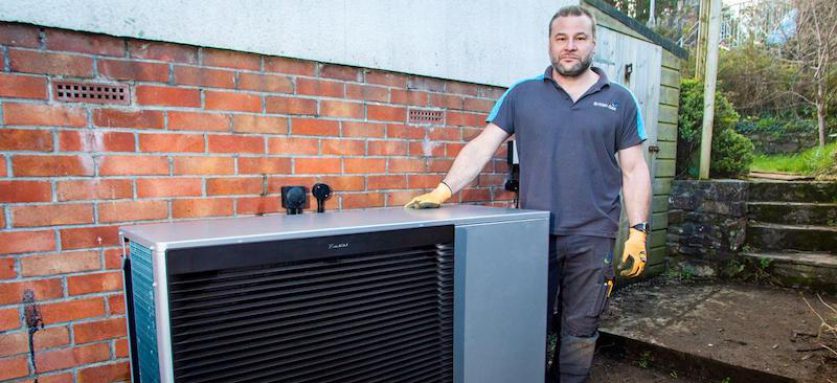 British Gas has installed its first heat pump at a home in Ivybridge, Devon, the beginning of a service it hopes will install 20,000 electric heating systems per year by 2025.
British Gas—retailer, servicer, and repairer of many of the country's boilers—is turning to low-carbon alternatives to help the UK meets its climate goals. The scheme has launched initially in the South West of England and will later be rolled out across the country.
The first installation, of a Daikin air source heat pump, was recently completed at a Devon home and is a "testament to [British Gas's] commitment to helping customers lower their carbon emissions using smart technology," said British Gas managing director Jana Silber.
"For this British Gas customer, and anybody else who is in a position to install a heat pump, it will bring real benefits—not just in terms of providing a more efficient means of heating their home, but also in terms of greatly reducing their carbon footprint," said Henk van den Berg, Strategic Business Manager, Heating & Renewables at Daikin UK.
"Installing a heat pump is one of the single best things households can do today to lower their carbon footprint," Silber added.
Collectively, home boilers are responsible for around 14% of the UK's carbon emissions, making domestic heating one of the heaviest polluting sectors, after transport and electricity generation. Boilers also use natural gas, making the UK vulnerable to price shocks and dependent on a supply chain influenced by Russia's Putin.
But while the government wants to see 600,000 heat pumps installed in UK homes by 2028, installations have stalled at around 30,000 units annually—just 5% of the target.
Part of the barrier to widespread adoption has been the high cost of heat pumps: with installation, they can run between £10,000 and £20,000. The government has maintained that economies of scale will push down these prices and will subsidise some early heat pump installations to kickstart the market. From April, the Boiler Upgrade Scheme will offer households grants of up to £5,000 to cover the cost of clean heat technologies like heat pumps.
Silber said British Gas's partnership with Daikin will also be "vital to encourage further uptake while the market is in its infancy."
To help households manage the costs, British Gas is offering customers up to seven years interest-free credit. It will also be offering installations with the Boiler Upgrade scheme from April.
British Gas hopes to install up to 1,000 heat pumps this year, with the aim of installing 20,000 annually by 2025. Under the PH Jones brand, parent company Centrica is already installing heat pumps in social housing.

Source: Centrica: "British Gas Completes First Heat Pump Install in Devon"