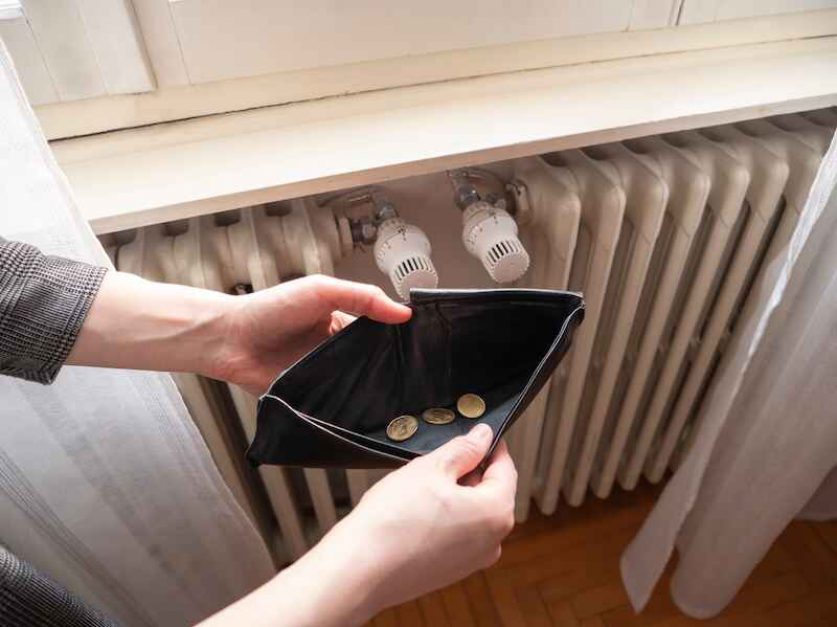 A forecasted £145 monthly hike in energy bills will leave 14.5 million people unable to afford gas and electricity next winter, charity Citizens Advice has warned as it urges the Chancellor to announce additional support for families.
That's up from the five million people who said they'll struggle to cope with the £60 monthly rise in energy bills to take effect from April.
Energy bills are rising in response to soaring wholesale natural gas prices, driven up last year by supply chain disruption from the pandemic, cold temperatures across the northern hemisphere, and deteriorating relations with Russia, the source of much of Europe's fuel.
That surge in natural gas prices wiped out nearly 30 British energy suppliers and has prompted Ofgem to raise the cap on domestic energy tariffs by £693 or nearly £60 per month from 1 April.
Then, the Russian invasion of Ukraine last month pushed up wholesale natural gas prices still further and threatened Europe's supplies. Ofgem is now forecast to lift the price cap to around £3,000 per month from 1 October – meaning an additional £145 on monthly energy bills that many households can't weather, Citizens Advice says.
The government will offer most households £350 off their energy bills this year, in the form of a £150 discount on their council tax and £200 energy "rebate" that will be repaid over five years. But Citizens Advice says that even with those measures, huge numbers of Britons will struggle to afford fuel.
The combined council tax and energy rebates will reduce the April increase in energy bills to £30 per month. However, nearly 10% of adults surveyed by Citizens Advice said they have less than £30 leftover each month after paying their energy bills, suggesting they won't be able to afford the increase.
Already, 41% of the five million people who say they'll struggle to cope with April's price hikes have borrowed money to pay for essentials, with some using buy now pay later (BNPL) schemes to buy groceries and toiletries.
The rebates will decrease the forecasted October energy bill hike to £115 per month. But 27% of those surveyed say they have less than £115 left each month after paying for their bills. That means 14.5 million people will struggle to afford heat and power next winter.
"These staggering findings must be a wake-up call to the government," said Dame Clare Moriarty, Chief Executive of Citizens Advice. "With one in four unable to afford their bills come October, measures announced so far simply don't meet the scale of the challenge."
Citizens Advice is calling on the Chancellor to announce further support measures for households when he publishes his Spring Statement next week. Specifically, the charity says the Warm Home Discount, which offers some pensioners and low-income households annual £140 discounts on their energy bills, should be expanded to more groups and the energy bill rebate expanded.
"The Chancellor has a crucial opportunity to bring forward more support for those most in need in his Spring Statement next week. Increasing benefits in line with inflation, expanding the Warm Home Discount and announcing a more generous energy rebate should be top of his list."
More than eight in 10 Brits (83%) don't think the government's £200 loan will make much of a difference in their ability to pay for energy, Citizens Advice's survey found. The "rebate" has also attracted criticism for being repayable.
Amid the soaring cost of living, Citizens Advice has already seen record numbers of people turning to its services for support. In February, the network's frontline staff referred 24,000 people to crisis support like food banks vouchers and charitable grants, surpassing even January's record-breaking numbers.
The charity is particularly concerned about the four million Brits who pay for their energy using prepayment meters. They'll face even steeper price hikes and are unable to spread the cost of energy use across the year as direct debit customers are. The average family on a pre-payment meter will pay £336 per month for their energy, or over £10 per day, in December 2022. The same usage would have cost them £147 per month in December 2021.
Households with prepayment meters can also be disconnected from supply if they can't afford to top up. Already in February, Citizens Advice staff supported more than 1,000 people with prepayment meters who couldn't afford to top up and were at risk of losing heat and power.

Source: Citizens Advice: "More than 14 million unable to afford October's energy hikes"