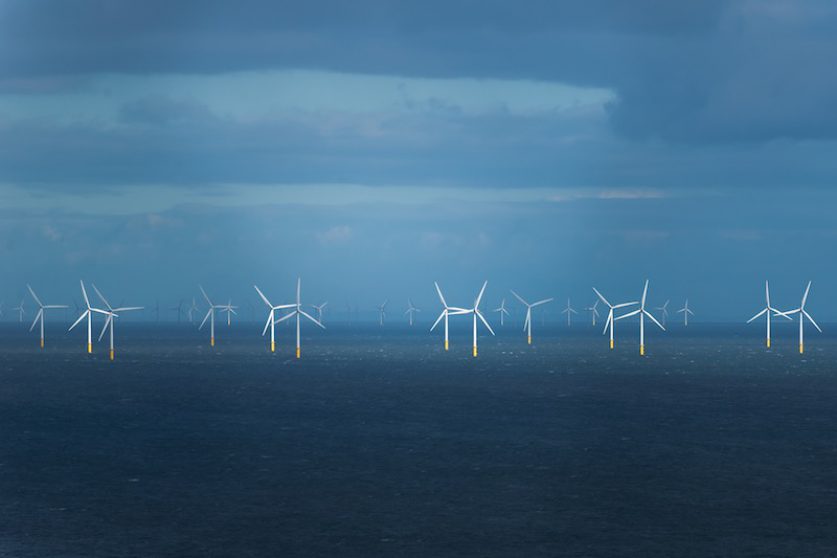 A wind-swept Boxing Day helped wind power set a new record, providing more than half of the country's electricity across a day for the first time.
As the UK was lashed by Storm Bella, with gusts of up to 100 miles per hour, on and offshore wind farms generated 50.7% of Great Britain's electricity, according to Drax Electric Insights.
While wind turbines briefly contributed 60% of the island's electricity mix in August, this was the first time wind power had sustained this level of generation across 24 hours.
The new record puts UK on its way to achieving the Prime Minister's ambition of seeing all homes in the UK powered by offshore wind by the end of the decade.
The milestone also caps a record-breaking year for renewable resources, with wind and solar installations benefiting from favourable weather and depressed electricity demand due to the coronavirus pandemic and lockdowns. Average power demand was 30.6GW this year, down from 32.58GW in 2019.
While wind power contributed its highest share of the country's power on Boxing Day, the record for the most electricity wind turbines have supplied was set on 18 December, at 17.3 gigawatts. But because power demand was higher than on Boxing Day, 17.3GW accounted for just 40% of all electricity produced.
Solar power also set a new record for generation this year, producing 9.6GW of electricity during a sunny afternoon in April. Solar panels, benefiting from clean air during the spring lockdown, helped the UK take its coal plants offline for a record-shattering 67 days between April and June.
Combined, wind and solar power yielded 29% of electricity generated in England, Scotland and Wales in the year to 21 December, up from 23% in 2019, according to data from National Grid Electricity System Operator (ESO). Fossil fuel plants contributed just 36% over the same period, down from 46% the previous year.
The increased reliance on renewables pushed the carbon intensity of Great Britain's electricity system to its lowest level yet, 181g of carbon dioxide per kilowatt-hour, compared to an average of 215g in 2019 and 248g in 2018.
Rob Rome, head of national control at National Grid ESO, said: "2020 has been a record-breaking year for Great Britain's electricity system. The grid continues to transform at an astonishing rate as we harness the growth of renewable power sources."
The carbon intensity of Great Britain's power declined across the year but briefly rose during August and September, which analysts attributed to a slump in renewable generation due to unfavourable weather and greater use of gas-fired plants.
Tom Edwards, analyst at energy consultancy Cornwall Insights, said reliance on gas generation was up 20% in September 2020 compared to the previous September.
"To compensate for the lower wind speeds and dunkelflautes—dark, still periods—we turned to gas and coal," he said. "It's part and parcel of relying more on weather driven capacity and interconnector exports, which makes us more reliant on the vagaries of the wind and sun."
Steve Jennings, partner at consulting firm PwC, said the "key challenge on our pathway to net zero" is what happens to the electricity system "when the wind doesn't blow or the sun doesn't shine."
Large batteries, including a record-setting installation recently granted planning permission in Essex, and increased use of interconnectors enabling the trade of green energy across Europe, will maximise the usability of intermittent renewables in different weather conditions.
However, Jennings suggested the use of gas-fired plants, fitted with carbon capture technology, will have to continue, perhaps indefinitely.