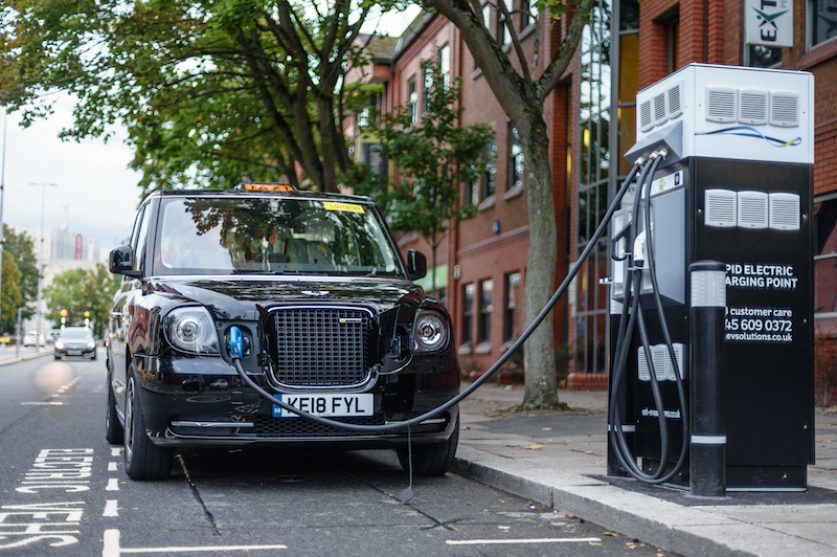 ENGIE is partnering with Bromsgrove District Council in Worcestershire to offer a year of free electric vehicle charging for taxis and private hire firms, to encourage cabbies to switch to low-carbon vehicles.
Bromsgrove council won government funding for the provision of charging stations through the Ultra Low Emission Taxi Infrastructure Scheme in January 2019. Now it is collaborating with the French utility company to deliver 13 50kW+ rapid EV chargers across the district.
The chargers will be installed this summer and, once live, will provide 100% renewable energy sourced from the UK energy supply.
For the first year following installation, registered taxis and private hire vehicles will be able to use the chargers for free. They will then be offered a discounted charging rate of 75% for the next two to five years.
Bromsgrove council is hoping free charging encourages cabbies to purchase electric vehicles to save on fuel costs, which can exceed £200 a week for diesel cabs.
In London, the introduction of 2,000 electric black cabs saved cabbies a collective £3.5 million in fuel costs their first year of operation, according to the London Electric Vehicle Company. Those electric cabs also prevented a total of 6,800 tonnes of CO2 from entering the atmosphere—the equivalent of 1,500 round trip flights from London to Sydney, Australia.
Across the UK, taxis and taxi-like services including Ubers were responsible for 3.4 million metric tonnes in 2017, the last year for which data is available. Emissions from the taxi sector have increased as we've swapped low-carbon journeys on public transport, by bike and on foot for ride-hailing services. According to the Union of Concerned Scientists, Uber and Lyft trips contribute an estimate 69% more emissions than the trips they replace.
Ordinary drivers are also welcome to use the chargers in Bromsgrove and across ENGIE's GeniePoint network, which will expand to 4,000 charging stations across the country by this year.
Cllr Margaret Sherrey, said: "This is fantastic news for our district. Now we can get the ball rolling to develop and implement clean transport options for our residents as well as giving EV users from elsewhere in the UK the opportunity to stop or visit Bromsgrove to 'recharge their batteries'. This really is a win-win for Bromsgrove."
Alex Bamberg, managing director of ENGIE EV Solutions, said: "Bromsgrove District Council are successfully putting together a clean transport strategy to provide critical services to enable drivers to make the change to zero carbon transport.
"Making reliable, easy to use and familiar EV charging facilities available to drivers in their own communities, encourages take up and results in cleaner air quality across the district."
Bromsgrove has more than 60,000 cars and vans, each contributing an average of two tonnes of greenhouse gas emissions per 10,000 miles driven and adding to air pollution.
ENGIE is also offering free EV charging across the GeniePoint network to key workers in frontline roles during the coronavirus crisis. They're using the government's definition of key workers, including those employed in health and social care, education and childcare, key public services, transport, local and national government, food and other necessary goods distribution, public safety and utilities and communications. To register and see a map of GeniePoint charging stations, visit geniepoint.co.uk. 
The government has committed to ending the sale of new petrol, diesel and hybrid vehicles by 2035 and the adoption of EVs is seen as critical to the country's net-zero target. But so far the takeup of low-carbon alternatives has been limited. Pure EVs accounted for just 1.6% of car sales in 2019. Drivers have frequently cited the lack of availability of charging infrastructure and the high upfront cost of EVs for their reluctance to switch.
However, the UK's charging point market is expected to grow by nearly a third (29%) this year, despite the impact of coronavirus on installations.