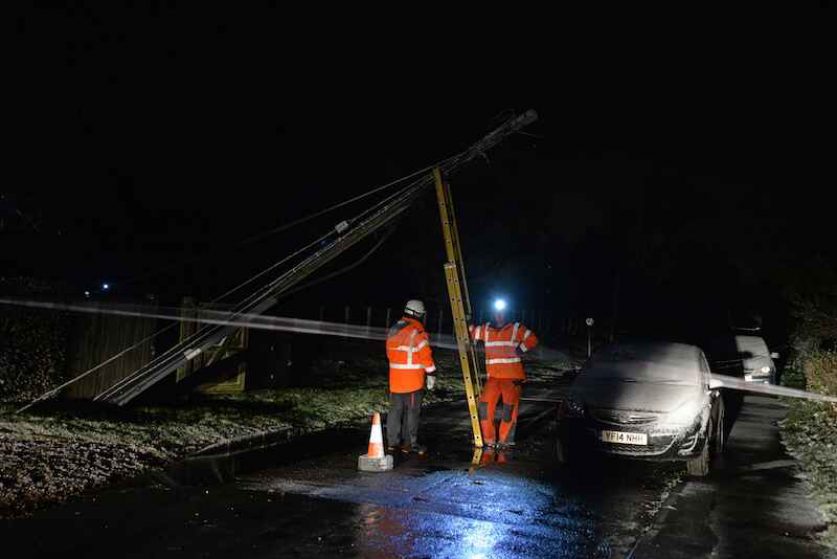 Households in northern England and Scotland will be able to claim up to £140 for every day they have been without electricity, as the energy regulator lifts a cap on compensation for power cuts following destructive Storm Arwen.
Storm Arwen battered Great Britain overnight on 26 November, with 98mph winds causing downing power lines and causing other damage to utility networks. More than one million households were left without electricity in the immediate aftermath of the storm and others disconnected from gas and water supplies, leaving utility companies scrambling to repair infrastructure.
But a week on from the storm, around 9,200 homes remained without power in parts of Scotland and North East England, most of them served by Northern Powergrid, Electricity North West, and Scottish and Southern Electricity Networks. Visiting an affected area in County Durham where 3,000 homes remain off supply, business secretary Kwasi Kwarteng said the situation was "completely unacceptable."
Jonathan Brearley, the chief executive of Ofgem, said: "We understand this is a really worrying time for people who are without heat and power as the severity of Storm Arwen has hit homes and businesses in the north of England and Scotland.
"The absolute priority remains getting people back on power as quickly as possible, but for those who have not had power because of Storm Arwen, there are ways for customers to claim compensation by contacting their network company," he added.
Households can claim £140 in compensation from their local electricity network for every day they are left without power. However, claims are typically limited to £700. Ofgem has now called on electricity networks to scrap the limit and hand households potentially more than £1000 for the lengthy outages.
Kwarteng also highlighted a "huge communication issue" between energy firms and affected residents. Residents of County Durham and Northumberland have said they have been unable to contact their local energy network and haven't received updates on when their power will be restored.
The regulator will now review the performance of these energy networks, including their resilience measures and how they communicated with customers following the storm.
"We have strict rules on how network companies need to operate in these circumstances, and we will take action if needed," Brearley said. "I've launched an urgent review to see if there are things that the industry could learn from this response in order to improve our support to consumers in the future."
Kwarteng said that if energy networks are found to have "failed to invest in infrastructure" they could face enforcement action.
"In this particular instance there is a question about the infrastructure in this area being fit for purpose," he said.
Northern Powergrid apologised for the failings. A spokesperson for the firm said: "As well as creating enormous challenges for us in terms of the engineering work we have to do to respond, the scale of the disruption has made it very challenging for us to communicate effectively with our customers.
"We have heard that loud and clear—and we are sorry that we weren't able to do better in that respect."