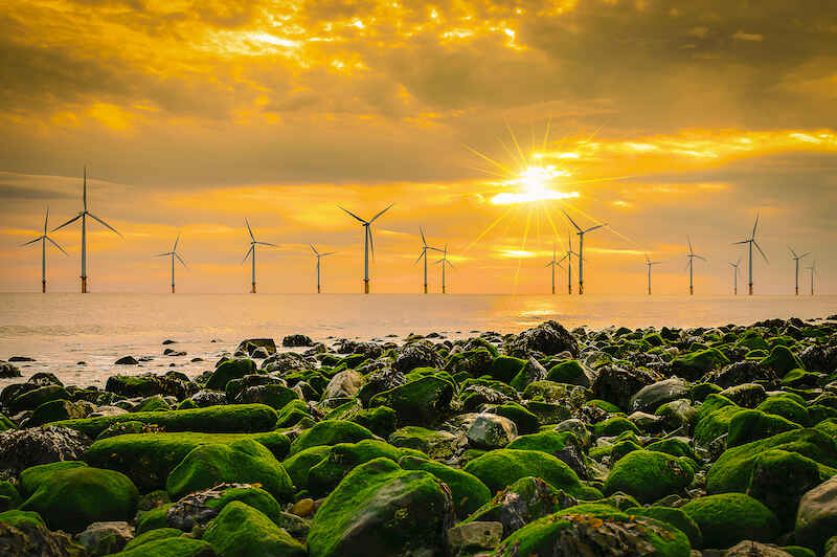 The carbon intensity of the British power grid fell to its lowest level yet on Easter Monday, in a year filled with new milestones for the decarbonising energy system, according to National Grid's review of the year.
Although the average carbon intensity of the British grid was 5% higher between January and April of this year compared to the first four months of 2021—an uptick attributed to low wind generation and a reopening economy—April played host to the electricity system's greenest period yet.
At 1 pm on 5 April 2021, the power system's carbon intensity fell to 39g of carbon dioxide per kilowatt-hour of electricity (gCO2/kWh). That well outpaced the previous record of 46gCO2/kWh, set on 24 May 2020, during the first lockdown.
On the afternoon of 5 April this year, on- and offshore wind turbines were contributing 39% of Great Britain's power, with solar providing another 21%. With nuclear power stations included, low-carbon resources made up over three-quarters (76%) of the fuel mix.
Then, two records fell on 21 May. Between 2 am and 3 am that day, wind power contributed its highest percentage of Britain's electricity—62.5%. Then, as the blustery Friday continued, wind generation reached an all-time high of 17.7GW between 3:30 pm and 4:30 pm. That meant Britain's wind turbines were generating enough power to heat 7.8 million kettles.
Interconnectors—electricity cables linking us to Europe—also played an important role in reducing the grid's carbon emissions. More links to the continent allow Britain to better balance an electricity system running on intermittent renewables, with electricity exported when our wind turbines are spinning and then imported when the skies are calmer. National Grid says that between June and August alone, interconnections saved nearly two million tonnes of carbon dioxide emissions. That's the equivalent of taking 932,000 cars off the road.
However, National Grid's Electricity System Operator (ESO) has recently warned of the sky-high cost of balancing the grid—matching supply and demand at half-hour intervals to keep the lights on—this autumn Balancing costs, which are ultimately borne by consumers, rose above £300 million for the first time ever in October and will likely be similarly high when November's figures are released.
Rajiv Gogna, from LCP Energy Analytics, said that increased global demand for natural gas and low renewables generation has "put the UK's limited capacity on the edge, forcing prices to repeatedly break new ground."
Glenn Rickson, head of European power at S&P Global Power Analytics attributed the high balancing costs to the ongoing unavailability of 3GW of gas plants mothballed by administrators of the bankrupt Calon Energy and to the need to use the coal units at Drax and West Burton. Due to the government's commitment to phase out coal use, these units aren't available on the wholesale market and "have priced themselves at very high levels in the BM to meet their Capacity Market commitments," he explained.
The ESO said it will review the balancing mechanism to get to the bottom of the excessive costs.
"In recent weeks there have been some very high-cost days, driven by generator costs in the balancing mechanism … As those costs are ultimately borne by consumers, it is important to fully understand the factors driving the market," National Grid ESO said in a statement.