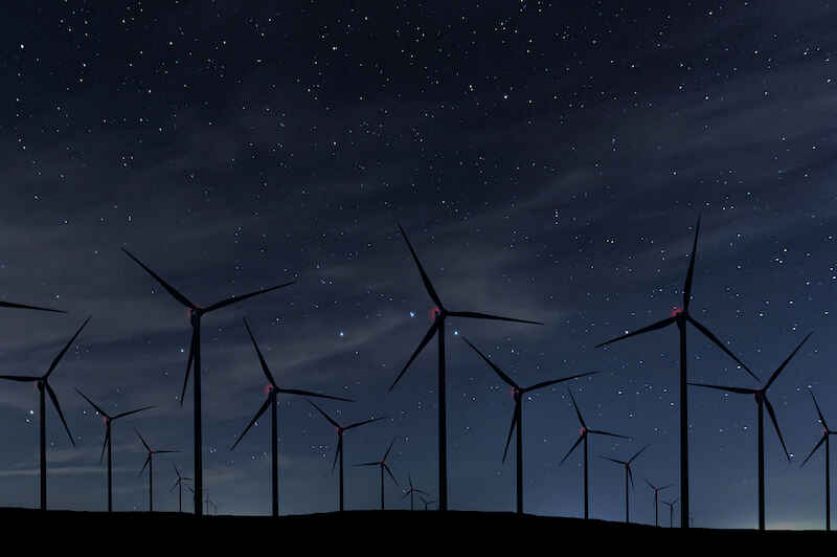 As gales lashed Great Britain early Friday morning, wind power reached a new milestone, producing more than 60% of the country's electricity for the first time.
Generation from wind power peaked between 2 am and 3 am on Friday, 21 May. During that hour, on and offshore wind turbines generated 62.5% of Great Britain's electricity. That contribution easily surpassed the previous record of 59.9%, set in August 2020 as Storm Ellen pummelled shores.
Winds were so strong and sustained that there were several periods between 10 pm Thursday and early Friday morning when wind power was supplying more than 60% of Great Britain's electricity.
Wind power generation peaked at 16.3GW on Friday, below the record of 17.6GW achieved on the bank holiday in early May. But because demand was lower overnight, on Friday wind contributed a higher proportion of the electricity needed.
Friday's milestones come after a year of slumping renewables production. Low demand and favourable weather pushed renewables to a series of records last year, including a 67-day stretch without coal power between April and June and new heights for solar. 2020 became the greenest year on record for Great Britain's electricity grid, with the carbon intensity of our electricity falling to an average of 181gCO2/kWh.
But emissions from the electricity grid are up in 2021. The carbon intensity of the grid was 5% higher between January and April compared to the same period in 2020. In April the grid produced, on average, a fifth more carbon dioxide than in April 2020.

The increase has been attributed to lower wind power generation as a result of calmer weather and heavier reliance on gas-fired power stations. Wind power generation for the first four months of the year was down 16% compared to the same period last year and overall contribution from renewables fell from 47% to 36%.
Even with Friday's records, wind power has made up only 18% of the electricity mix during May, down from the 20% recorded in May of last year.
The slump suggests that the decarbonisation milestones achieved during the pandemic won't necessarily continue as the economy and everyday life shift back into gear. Trade bodies representing low-carbon generators, including RenewableUK, Solar Energy UK and the Nuclear Industry Association, have urged the government to set firmer deployment targets and provide more support for low-carbon technologies, including onshore wind, solar and nuclear.
Prime Minister Boris Johnson has said he wants every home in Great Britain to be powered by offshore wind by 2030—a target which would require quadrupling the current capacity to 40GW.