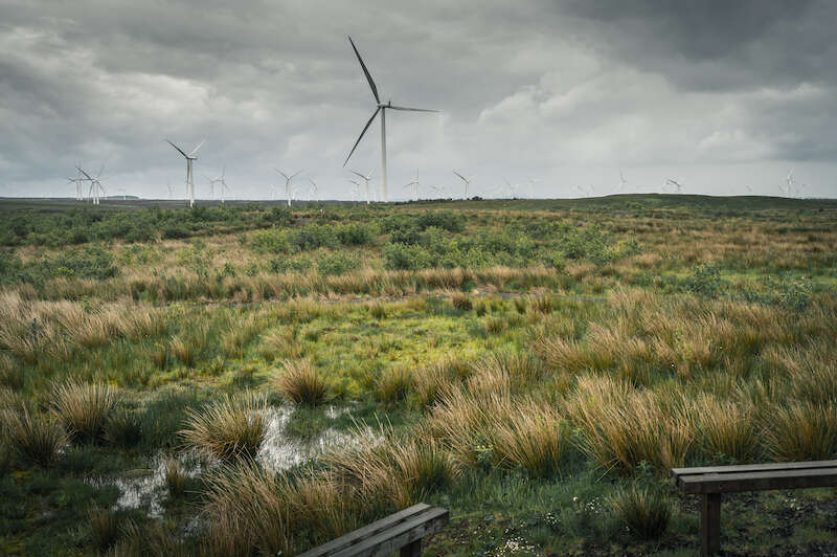 Trade body RenewableUK is urging the government to target 30GW of onshore wind capacity by the end of the decade, more than double the 13.7GW currently online.
Prime Minister Boris Johnson has already outlined a vision of powering every home in the UK with offshore wind by 2030, requiring 40GW of capacity. This should be matched by targets for onshore wind, green hydrogen and marine energy for 2030 that are as ambitious, a new report from RenewableUK says.
Setting intermediary targets for 2030 is crucial to meeting more long-range goals, including the government's new commitment to slashing net emissions by 78% of 2019 levels by 2035 and its net-zero goal for 2050.
Achieving these immediate and long-term goals will require clearer pathways for renewable technologies and favourable regulation. Onshore wind in particular has been stymied by a ban on the technology competing for government subsidies through Contract for Difference (CfD) auctions, in place between 2015 and 2020.
 Although reform passed last year has made it easier for onshore wind developers to find a viable path to market, onshore installations still face high barriers in England, including the requirement for local consent through existing planning processes. Most new onshore wind capacity will be located in Scotland. Recognising this, RenewableUK says the developed Scottish and Welsh administrations should develop complementary targets for 2030.
Meanwhile, the government should act now to ensure the UK doesn't lose its "headstart in the global race" to develop green hydrogen into a viable energy source. Renewable hydrogen has been hailed as a clean alternative to natural gas for home heating and cooking but also for shipping and heavy industry. The government should target a minimum of 5GW electrolyser capacity by 2030, RenewableUK said. Electroylysers use electricity to split water into hydrogen and oxygen.
Additionally, the government should aim for 1GW of marine energy capacity, such as wave and tidal stream power, by the end of the decade. This will require an updated government revenue support mechanism for the emerging sector, including inclusion in future CfD auction rounds and government-backed Power Purchase Agreements (PPA), the report says.
RenewableUK's head of public affairs Nathan Bennett said: "Over-arching commitments to decarbonise by 2035 and 2050 are a great starting point, but there is so much to be gained by fleshing out comprehensive plans for renewable development which will underpin this.
"By enhancing our renewable energy targets, the UK doesn't just show effective leadership on tackling climate change – we will also drive new investment and jobs in the renewable energy supply chain across the UK. We're in a position to be a world leader in technologies like floating wind, green hydrogen and marine energy, grasping the export potential of each industry's inevitable global growth."