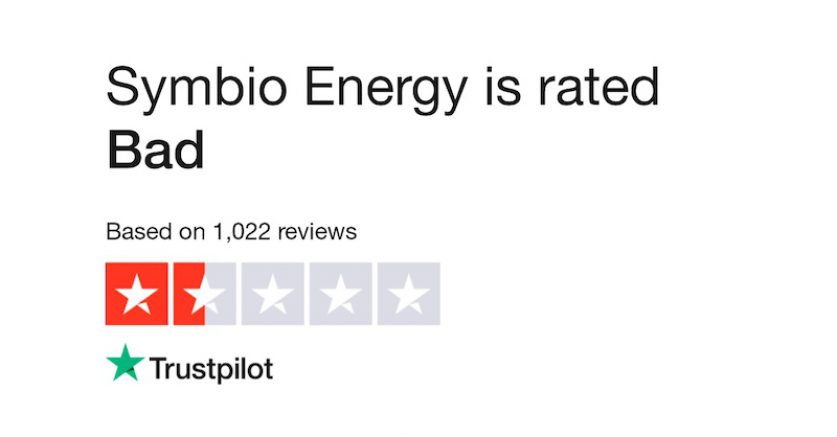 Troubled energy supplier Symbio has been issued a formal warning by Trustpilot over "threatening" responses to negative reviews on the platform.
Symbio, a small, electricity-only supplier, is labelled "bad" on Trustpilot, on the basis of more than 1,000 reviews, 70% of them one-star.
Reviewers report that the supplier has ignored the meter readings they've provided and used inflated estimates instead, artificially increasing bills and creating problems when customers want to switch away or settle bills with previous suppliers. Customers speculate Symbio is exaggerating their usage in order to boost cash flow.
Customers also report that their enquiries—about meter readings, being refunded their credit balances are switching and other issues—are routinely ignored.
Symbio has lashed back at many of these reviewers, accusing them of "cyberbullying" in replies on the site.
"We note that you have not followed the official complaints procedure and have chosen this forum to voice your complaint. This is unfortunate," the company has replied to dozens of reviews.
"Customers who choose to use public social media to denigrate a company are engaged in a form of Cyberbullying and its not something that Symbio Energy engages in," the replies continue.
The company then links to an unrelated BBC News article about a man forced to pay £25,000 in libel damages to a legal firm over a negative Trustpilot review. It also includes a link to an Apple News article about an ecosystem of fake reviews on Amazon, implying that its critics are similarly bogus.
Symbio claims it added the links to their replies to "remind parties that if they wish to leave a comment it must be true."
Customers alerted Money Saving Expert to the responses, which they said were "threatening" and "aggressive."
Trustpilot has now slapped Symbio with a cease and desist letter, saying threatening behaviour is in breach of its guidelines.
A spokesperson for the reviews site said: "We expect everyone to be a respectful contributor to our platform. Amongst other things, our guidelines for consumers and businesses require everyone to 'play nice'. Where consumers or businesses act in a way that is threatening, or is perceived to be so, we treat this as a breach of our guidelines and take steps to put a stop to it.
"In this instance, we have taken swift action, sending a formal cease and desist letter to the business demanding that all responses contravening our guidelines be quickly amended. As we investigate the business's profile further, we have also placed a consumer alert to warn everyone of our latest actions. Should a positive response from the business not be forthcoming in the next week, we will take further action."
The alert, which appears to have gone up on Tuesday, says Trustpilot is investigating the firm. "We strongly oppose any attempts to silence consumers' freedom of speech. As a public, open, review platform we believe strongly in consumers having the ability to leave feedback—good or bad—about a business at any time, without interference," it continues.
Undeterred, Symbio continued to post replies with the same text, alleging cyberbullying and linking to the articles, throughout Wednesday.
A spokesperson for the energy supplier said: "The amount of calls we receive where customers seek to leverage bills, discounts and evade liabilities by threatening poor reviews or complaints [sic]. There is a published complaints route … the ombudsmans, litigation and Ofgem. Cyber trolling is not in our opinion a socially acceptable route."
The company attributed its poor customer service to the effects of the pandemic on its back office in Goa, India, including curfews and lockdowns.
In response to allegations of inflated bills, Symbio says it uses an advance billing system "wherein we bill you one month in advance based on your estimated annual consumption. Upon receiving your meter reading at the end of each month, we reconcile the bill according to the meter reading submitted."
This isn't the first time Symbio has attracted negative attention. In January Ofgem launched an investigation into the firm over its failure to make on-time payments into two schemes supporting green energy, the Renewables Obligation (RO) fund and Feed-in Tariff (FiT) scheme. The regulator ultimately proposed to fine the firm £100,000 for the late payments.

In response, Symbio accused Ofgem of being institutionally prejudiced against BAME and LGBTQ+ people.
Last year Symbio was also temporarily banned from signing up new customers after it missed by more than two years a deadline to use the Data Communication Company's smart meter network.
Symbio was recently ranked 34th out of 35 energy suppliers for customer service by Citizens Advice, earning just 1.55 stars.