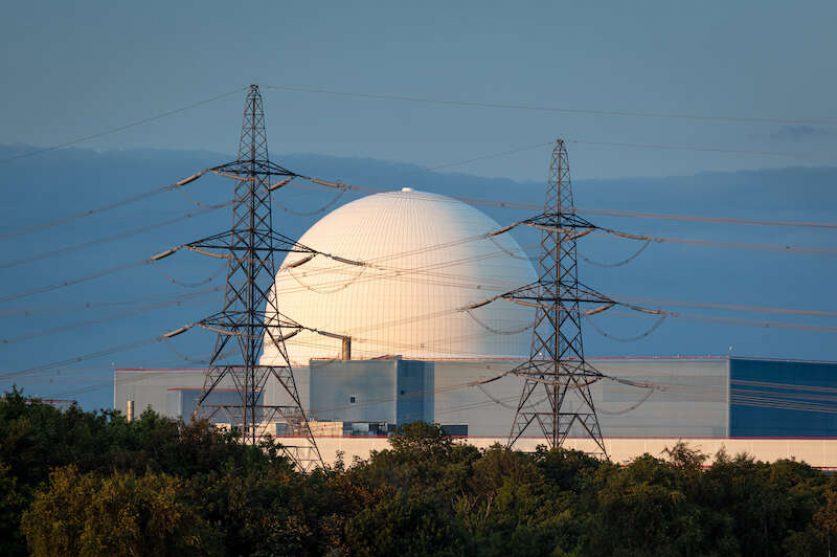 EDF's Sizewell B nuclear plant, taken offline in April for routine refuelling and maintenance, will stay shut for three months longer than planned after wear was found on steel components in the reactor.
The closure of the Suffolk plant, capable of producing electricity for 2.5 million homes or meeting around 3% of the UK's demand, will deal a blow to low-carbon generation this summer.
Sizewell B is the UK's youngest operational nuclear reactor, linked up to the power grid in 1995, and the only one not slated to close this decade. While the plant was originally scheduled to be decommissioned in 2035, EDF is now planning for up to a 20-year extension to that date.
However, unexpected wear to a crucial component of the reactors' safety mechanism has raised new safety concerns about the plant.
Sizewell B's owner, French energy giant EDF, said it discovered wear to the plant's stainless steel "thermal sleeves," part of the mechanism which inserts control rods into the core to shut it down. Extreme wear could eventually result in parts of the thermal sleeves coming loose and obstructing the control rods, EDF said, citing experience at one of its nuclear power stations in France.
Control rods give operators real-time control over the fission process in the reactor, allowing them to keep it active but also prevent it from accelerating out of control. EDF said the damage to the thermal sleeves at Sizewell was "nowhere near" the stage where it would prevent the control rods from functioning and that even in that event the reactor could still be powered down safely.
However, it will assess the cause and extent of the wear at Sizewell and determine how many parts need to be replaced before it seeks permission to restart the plant. An outage that was initially scheduled to run until 29 May will now be extended until 30 August while EDF carries out this work.
The work is being performed by a reduced number of workers in order to maintain safety during the pandemic. A spokesperson for EDF said in April: "Sizewell normally employs an additional 1,200 workers during an outage but has reduced the scope of work and the additional staff and contractors needed." It is now performing the work with "under 750 additional contractors."
But despite the precautions, several of those contractors were forced to self-isolate in April after coming into contact with a person, not a Sizewell worker, who tested positive for the virus.
This isn't the first time plants in the UK's ageing nuclear fleet have been sidelined over safety concerns. EDF's Hunterston B in North Ayrshire was taken offline in 2018 after cracks were discovered in its graphite reactor cores. Similar cracks were also discovered at its sister power station Hinkley Point B in Somerset.
Tests performed by EDF demonstrated that the cores could withstand a once-in-10,000 years earthquake. After being cleared by the Office for Nuclear Regulation (ONR), both plants are currently generating electricity. However, EDF will shutter both earlier than planned: Hunterston B by January 2022 and Hinkley Point B by July 2022.
Meanwhile, EDF's Dungeness B on the south coast in Kent has been offline since September 2018, when inspections revealed corrosion to seismic restraints, pipework and storage vessels so severe that the ONR classified the event as a level 2 incident, out of 7, on the International Nuclear Event Scale. Dungeness was originally scheduled to come back online in February 2019 but that date has been repeatedly pushed back as EDF performs repair work.
EDF is now understood to be considering decommissioning the plant, moving directly to defuelling, if it can't come back online by August of this year. The plant had been scheduled to run until 2028.
The early decommissioning of these plants is putting more pressure on the UK's next generation of nuclear reactors. Ground has broken on just one successor—the £23 billion Hinkley Point C—but it won't generate any electricity until 2026.
The government is reportedly close to granting EDF and China General Nuclear (CGN) permission to build a new power station—Sizewell C—on the Suffolk site. The project is expected to be finished by 2031.
However, plans by two Japanese companies, Hitachi and Toshiba to construct power stations on Anglesey and in Cumbria, respectively, fell through over lack of government co-investment in the projects. Additionally, CGN's plans to build a new nuclear power station at Bradwell in Essex have been subject to scrutiny over the role of China in the UK's essential infrastructure.