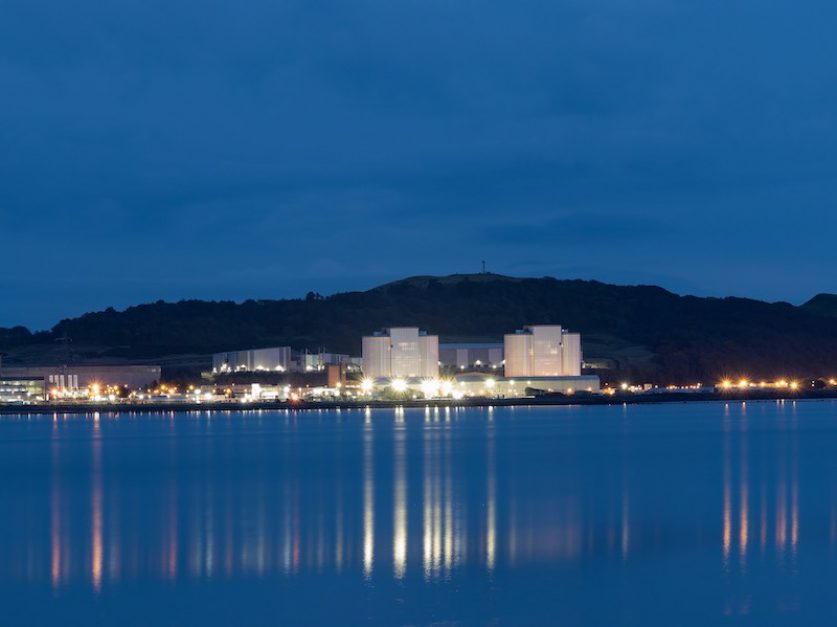 EDF will close its Hunterston B nuclear power station next year, at least a year earlier than scheduled.
The French utility giant has confirmed that it will begin decommissioning the plant no later than 7 January 2022. That's despite the power station, in North Ayrshire, Scotland, having regulatory approval to operate until March 2023.
EDF said it decided to accelerate the decommissioning to "provide clarity for our staff" and in light of the "age of the station."
The plant employs around 500 full-time staff and 200 contractors. 125 jobs are expected to be lost when power generation stops at the site, while some staff will be kept on for the refuelling process, which is likely to run until 2025. EDF said it is already speaking to staff "about where they see their futures."
In the meantime, one of the plant's two remaining reactors will soon begin generating electricity for the first time since 2018.
Hunterston B was taken offline two years ago after more than 350 cracks were detected in its graphite reactor cores. The number of cracks then exceeded the operational limit approved by the Office for Nuclear Regulation (ONR), fuelling calls for the plant to be decommissioned early.
However, following further inspection and investment by EDF, the regulator said it is now satisfied the reactor three can operate safely with the cracks and has raised the operational limit to 700 cracks.
Tests performed by EDF proved that even with the cracks, the core could withstand a once-in-10,000 years earthquake. EDF's Hinkley Point B was also taken offline after similar cracking was discovered in its core but is currently generating electricity with no immediate plans for closure.
Donald Urquhart, the ONR's deputy chief inspector, said: "I am satisfied that the detailed safety justification provided by the licensee is sufficient to demonstrate that reactor three can operate safely for this period of operation.
"We applied stringent national and international standards when making our decision, have scrutinised the nature of the cracking observed in reactor three and are satisfied that it will not prevent the reactor from operating safely or impede its ability to be shut down if required during this period of operation."
The plant will initially run for six months and EDF said it would seek authorisation for a second six-month run to begin next spring.
Hunterston B, which began operation in 1976, originally had four reactors. Reactors one and two have already been decommissioned. Reactors three and four are together capable of generating enough electricity to power 1.7 million homes.
The plant was initially scheduled to close in 2016 but investment by EDF extended its life until 2023.
Matt Sykes, managing director for EDF's generation business, said: "Hunterston B has quietly delivered a major contribution to the UK for more than 40 years.
"It has far exceeded its original remit and, over its lifetime, gone on to safely produce enough low-carbon energy to power the whole of Scotland for eight years.
"Our focus is on continuing to safely deliver the last period of power generation and then transition the station into decommissioning."