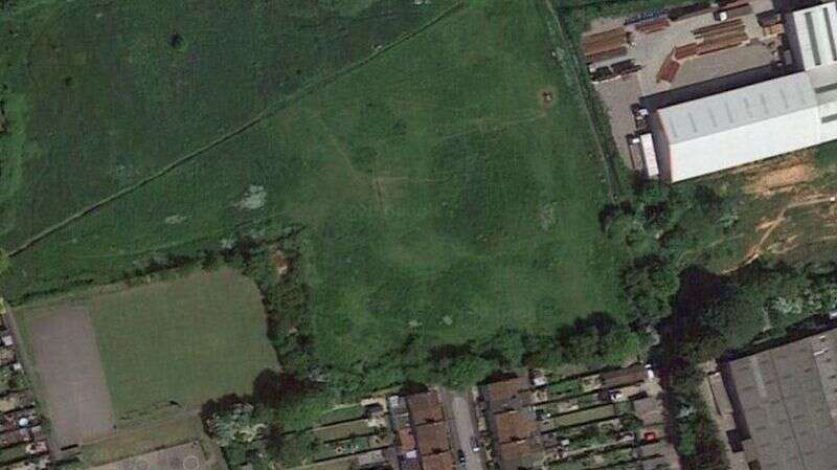 In a decision telling of the UK's changing energy priorities, plans to construct a gas-fired power station have been ditched in favour of a battery storage project.
Following talks with Bath and North East Somerset Council, Conrad Energy says it now intends to use a site in Midsomer Norton (pictured) slated for a gas plant for a battery storage project instead. The 6MW, eight-battery scheme will store electricity produced during times of high generation and low demand and release it when demand increases. It will be capable of powering around 15,000 homes for two hours.
The U-turn follows a controversial approval of the gas plant that prompted local outcry and triggered a review of the council's planning processes.
The council's planning officers used delegated powers to approve plans for a standby gas generator plant on the site in April 2020. At the time some of the authority's planning and scrutiny committee members were suspended as a result of the coronavirus crisis and councillors say their objections to the application weren't heard.
Councillors and residents highlighted the hypocrisy of building a fossil fuel plant with a 25-year lifespan just a year after the council declared a climate emergency and committed to making the area carbon neutral by 2030. They also voiced concerns about air quality near the site, which is on vacant industrial land beside a key travel corridor and near a primary school.
Labour councillor Grant Johnson said the approval "flies in the face" of the council's climate emergency declaration. "It's absolutely ridiculous, all it will do is increase our reliance on dirty fossil fuels when other options are available."
Now, following lengthy discussions the council and developer Conrad Energy have agreed to one of those alternatives.
Sarah Warren, Liberal Democrat councillor and deputy leader for climate and sustainable travel, said: "Conrad Energy have listened and have worked hard with the council to ensure that we can bring forward plans for this site that help deliver our net zero targets and respond to the concerns raised by local residents.
"It is great that we are attracting innovative new projects such as this into our area, as we are going to need many more changes in the way we produce and use energy if we are to meet our goal."
Storage like utility-scale batteries is a critical partner to intermittent renewables in a decarbonising electricity system, storing electricity that can be released when the wind doesn't blow and the sun doesn't shine. They also ensure that renewable generators don't have to be switched off when their production outpaces consumption. Last year the British grid was forced to constrain enough renewable electricity to power one million homes, losing out on clean power and paying hundreds of millions to generators forced to shut off.
But the UK currently only has 1GW of storage capacity, in the form of battery storage projects and pumped hydro. Finnish energy Wärtsilä has said this figure must grow to 49.5GW to enable the grid's decarbonisation and the UK's 2050 net-zero goal—but it advocates the controversial use of flexible gas capacity like the plans scrapped in Somerset.
Already 16GW of battery storage projects are in the development pipeline, along with the UK's first new pumped hydro plants in nearly 40 years. The project in Midsomer North will join the list when Conrad Energy submits a fresh planning application.
However, councillor Johnson said Bath and North East Somerset Council can't take credit for Conrad Energy's decision to convert the plans to battery storage.
"It's fantastic Conrad Energy have changed their mind. We shouldn't be at the mercy of a business making that decision because we've done the wrong thing and approved it without any scrutiny," he said.