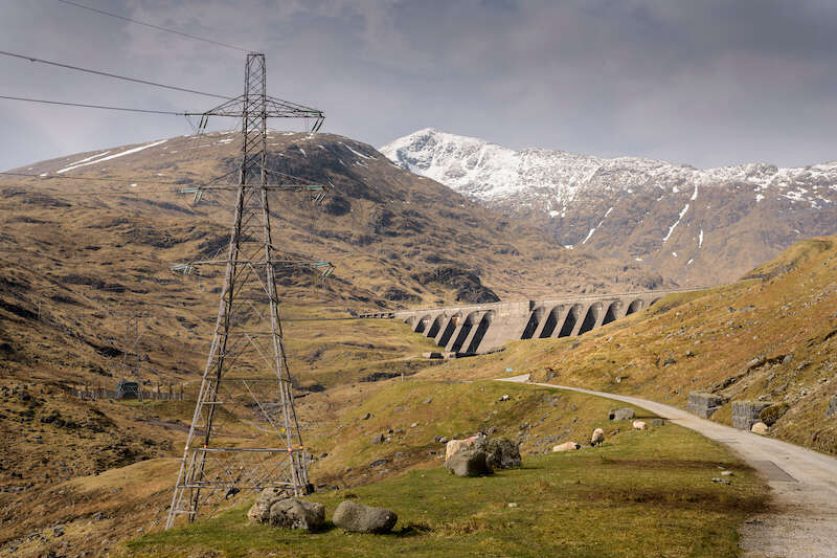 Drax is seeking planning permission for a new pumped hydro storage plant at the Cruachan site in Scotland, providing critical balancing services to the electricity grid.
Ben Cruachan, Argyll's highest mountain, is already the site of a 440MW pumped storage station, operational since 1965. The station acts as a water battery, using cheap, off-peak electricity to pump water to the Cruachan Reservoir and then, as needed, releases it down into Loch Awe, 396 metres below, powering turbines. 
The turbines are located within the mountain, leading to the "Hollow Mountain" nickname. Under Drax's plans, an additional million tonnes of rock would be excavated from Ben Cruachan to create a second power station there, drawing on the same reservoir.
The new station would have a capacity of 600MW, able to power one million homes and meeting Britain's growing need for grid flexibility and electricity storage.
Storage systems like pumped hydro are a crucial partner for intermittent renewable generators, storing excess electricity when generation outstrips demand, then releasing it later. Already Britain's existing four pumped hydro plants are running more than ever as they balance a grid increasingly reliant on wind and solar power. The average daily output of Britain's existing four pumped hydro stations reached a new high of 409MW in the first quarter of 2021.
Storage systems like Cruachan reduce the need to constrain renewable generators, disconnecting them from the grid when they're producing too much electricity. However, Great Britain has only 1GW of storage capacity, in the form of batteries storage projects and pumped hydro. While there is 16GW of battery storage in the development planning, no new pumped hydro station has been built here since 1984.
This deficiency meant that 3.6TWh of wind power had to be constrained last year, an analysis by Lane, Clark and Peacock found. Not only does constraining renewables counterproductive for the UK's decarbonisation goals, but it's also costly, National Grid Electricity System Operator (ESO) having to pay generators to disconnect. Record constraint payments to wind generators last year contributed to the nearly £1 billion spent balancing the grid in the first half of 2020, ultimately increasing everyone's energy bills.
Will Gardiner, chief executive of the Drax Group, said: "Last year, the UK's lack of energy storage capacity meant wind farms had to be paid to turn off and we lost out on enough renewable power to supply a million homes. We need to stop renewable power from going to waste by storing it, and Drax is ready to move mountains to do just that."
A study commissioned by Drax last month cautioned that Great Britain's lack of energy storage will complicate the transition to a decarbonised, renewables-reliant grid, particularly as the climate emergency causes more extreme and unpredictable weather.
Local politicians have welcomed Drax's investment in the area and in energy storage.
Brendan O'Hara, MP for Argyll & Bute, said: "This will support 900 rural jobs and create a pumped storage facility that will be able to provide enough renewable energy to power a million homes while helping us reach our 2045 net zero target, it is great news for this area and for Scotland."
Following a consultation on the project, an application will be submitted to Scottish Ministers in early 2022. If that application is successful, construction work will begin in 2024 and the plant will begin providing electricity storage by 2030.
Drax isn't the only power generator investing in pumped hydro. SSE Renewables has announced plans to build a massive pumped hydro station near Loch Lochy in Lochaber in the Highlands. With a potential capacity of 1500MW, the Coire Glas project could power three million homes for up to 24 hours.