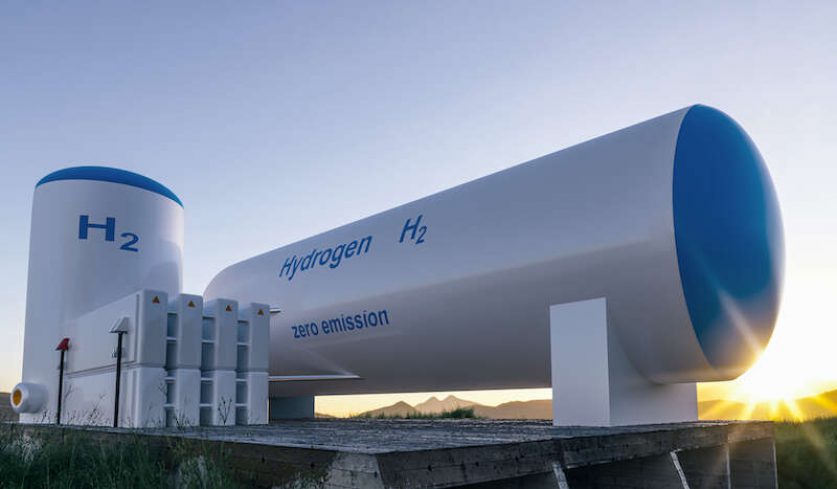 Households could face a levy on their gas bills to support hydrogen as a low-carbon alternative to gas-fired heat, with the government consulting on a funding mechanism similar to the one that's grown the UK's offshore wind capacity. 
A new hydrogen strategy to be published next week will outline ways to increase the UK's production and usage of the low-emission gas as part of its drive toward net zero. Boris Johnson's 10-point green plan calls for the UK to host 1GW of low-carbon hydrogen production capacity by 2025 and 5GW by 2030. This will be backed up by £240 million of government funding for hydrogen production facilities.
Hydrogen can be produced in two different ways: through the electrolysis of water, powered by renewable electricity ("green hydrogen") or from natural gas, with the emissions produced from this process captured ("blue hydrogen").
Blue hydrogen is seen as initially more cost-effective because it can use existing gas pipelines. It's being pushed by major energy companies, which are seeing government making for carbon capture and storage projects that would be a crucial component of a blue hydrogen infrastructure. However, climate advocates prefer green hydrogen.
Hydrogen is expected to play a role in decarbonising sectors like heavy industry, shipping and long-haul flights that resist easy electrification. However, it's also been mooted as a means of decarbonising home heating, an alternative to both natural gas heating and low-carbon electric heat pumps. Households are responsible for around one-fifth of the country's carbon emissions, much of that coming from gas boilers and cookers.
Proponents of hydrogen even argue that the gas can be mixed with natural gas in the UK's gas grid or replace it entirely. Trials delivering hydrogen gas over the gas grid, either mixed with natural gas or on its own, are already underway.
A new funding mechanism will ensure companies producing hydrogen gas can count on a predictable price for future sales. The scheme will be similar to the Contracts for Difference (CfD) auctions which guarantee the price of electricity produced by renewable generators like offshore wind farms and by the next generation of nuclear plants, including the Hinkley Point C power station currently under construction.
This funding mechanism has been credited with driving down the price of offshore wind by more than 70% over the last decade, making it one of the cheapest ways of generating electricity. However, in the short term, CfD means higher costs for consumers as they subsidise the construction of new capacity.
However, some environmental groups argue that hydrogen is a less effective way of decarbonising home heating than electric heat pumps, especially if the hydrogen used is blue hydrogen. They say that hydrogen gas should be reserved for heavy industry, where electricity isn't viable. They also warn that blue hydrogen, being pushed by oil and gas majors, will secure the future of gas producers when the world should be moving away from the mining of fossil fuels.
They argue that government support for blue hydrogen should be limited because the fossil fuel-derived gas should only be a transitional step to a cleaner gas.
Doug Parr, chief scientist at Greenpeace UK, said funding for hydrogen shouldn't come at the expense of backing other forms of renewable energy.
"There isn't an infinite amount of bandwidth in government or household bills to support multiple levies," he said. "We expect the price of green hydrogen and other forms of renewables to fall faster … so there's a danger of locking the UK into a more expensive and less clean fuel long-term."
The government is also wary of backlash from MPs and the public over the impact of the country's decarbonisation drive on households finances. This week the Sun reported that the government intends to delay a ban on gas boilers to 2035 over concerns about the cost of replacing them, either with electric heat pumps or hydrogen appliances.
The government is already considering another levy on gas bills: to fund the construction of plants producing the 'green gas' biomethane. It's also mulling ways to slash electricity bills to ensure that running electric heat pumps isn't more expensive than running gas boilers and one of the proposed mechanisms could be shifting some of the taxes on electricity bills–supporting renewable generation and fuel poor households–to gas bills.