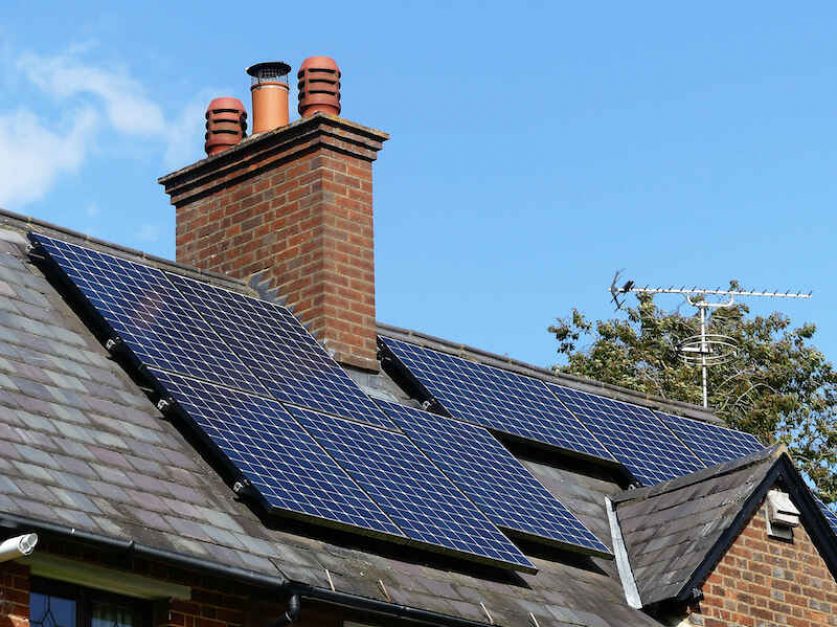 New research from WWF and Scottish Power has quantified just how much households could save on their energy bills—and add to their property's value— by embracing green technologies such as solar panels, heat pumps, and smart battery systems.
The new study, Better Home, Cooler Planet, calculates that a household with these energy efficiency upgrades could slash up to £1,878 per year off their energy bills. That includes the £586 per year boost to household finances delivered by solar panels, through savings on electricity costs and earnings on power sold back to the grid through the Smart Export Guarantee.
Meanwhile, a heat pump currently costs households £117 less per year to run than a gas boiler.
With typical energy bills set to soar to over £3,000 this year and predicted to remain elevated for years, those savings could be hugely impactful and ease the cost of living crisis.
The figures are based on the renovation of a detached home in Southern England. With an old boiler and poor insulation, the home currently faces annual energy bills of £2,816. But the same home with a heat pump, solar panels, electric vehicle charger, and smart battery could pay just £383 per year for its energy.
The report also considers how long it takes for these upgrades to pay for themselves in energy and fuel savings. It found that drivers break even on an investment in an EV in just one to three years, while it takes between 10 and 15 years for energy bill savings and Smart Export Guarantee payments to offset the upfront costs of solar panels, while heat pumps pay for themselves in 20 years.
But the benefits aren't just financial. The report found that insulation, air-source heat pumps, and solar panels could also cut home carbon emissions by 95% during their lifetimes. The 91 tonnes of carbon dioxide equivalent saved is the equivalent of taking 42 fossil fuel cars off the road.
With around a fifth of the UK's carbon emissions coming from homes, these home improvements will be essential to helping the country reach its decarbonisation goals.
Isabella O'Dowd, head of climate at WWF-UK, said: "Accelerating the rollout of low-carbon technologies and energy efficiency is the best way to ensure the UK's energy security, shield homeowners from the high price of fossil fuels and protect the planet."
But she acknowledged that the upfront costs of these technologies are a barrier for many households and called on the government to offer assistance to homeowners, particularly those on low incomes.
"We would like to see financing mechanisms put in place by government to help people have more access to support in terms of reducing the upfront costs," she said.
Earlier this month, an analysis by the National Grid Electricity System Operator (ESO) found that "insufficient incentives" mean the UK will likely miss its target to boost heat pump installations to 600,000 per year by 2028. The grid operator noted that the new Boiler Upgrade Scheme, offering homeowners £5,000 toward the cost of a heat pump, has funding to support just 90,000 installations over three years.
WWF and Scottish Power's report also notes that homeowners struggle to find reliable information about decarbonising their homes. It urged the government to launch an "energy advice and support service" and promote high standards and training in the supply chain to boost consumer confidence and demand.
Meanwhile, private landlords should be offered tax incentives to make green upgrades to their properties, O'Dowd said.
The report also analysed data from five million house sales in England and Wales and found that green upgrades significantly increase resale values—by an average of £10,000.
According to the analysis, an air source heat pump added £5,000 to £8,000 to the home's value, while solar panels boosted it by £1,350 to £5,400. An electric vehicle charging point could increase valuations by around £5,000.
Rob McGaughey, head of smart heat at Scottish Power, said: "Home installations of heat pumps, solar panels, and electric vehicle chargers can help both move the country away from its reliance on fossil fuels and address the climate crisis."
Sources: WWF UK: "Better Home, Cooler Planet"
The Guardian: "Green upgrades could cut UK energy bills by £1,800 a year, finds study"
Current News: "Solar, heat pumps and EV chargers can save homes £1,800 on energy costs, report finds"