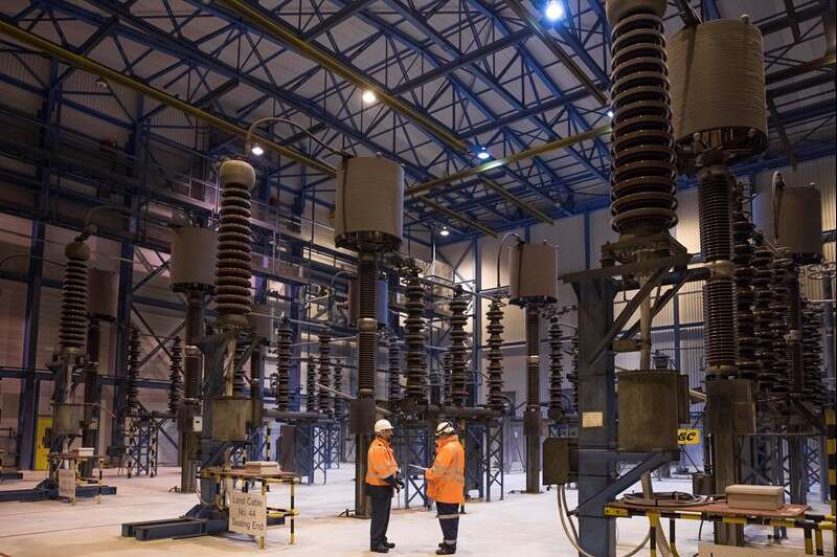 A major fire has severed one of the British grid's most important links to Europe, pushing power prices still higher and forcing the grid to call on coal plants.
A fire broke out the Sellindge, Kent converter station of the IFA1 interconnector to France in the early hours of Wednesday morning, forcing the evacuation of staff and nearby residents, the closure of several roads and the halting of Eurostar services. The blaze was attended by 12 fire engines, with firefighters using compressed air foam to prevent it from spreading to nearby structures.
By 8 pm Wednesday the fire was largely controlled, with two engines remaining overnight, "dampening down remaining hot spots," Kent Fire and Rescue Service said.
However, for Britain's electricity market, the ashes will be settling for months.
The blaze means 1GW, or half of the capacity of the 2GW IFA1 cable, will be offline until 27 March 2022, National Grid said. The remaining capacity was already offline due to planned maintenance, which will be extended until 25 September.
While the Portsmouth-based IFA2 interconnector remains unaffected, the halving of IFA1's capacity will limit Britain's ability to import electricity from France over a winter when power supplies were already expected to be tight and prices red-hot.
The impact is already being felt. With supplies tight, the National Grid Electricity System Operator (ESO) was forced to call on coal power stations to keep the lights on.
National Grid confirmed that EDF's West Burton A coal power station in Nottinghamshire and a coal unit at Drax in North Yorkshire were warming up to generate electricity Wednesday overnight, with those at Drax brought out of semi-retirement.
Drax closed its two remaining coal units for commercial generation March 2021 and said it didn't expect to burn coal after that date. However, the units will remain available until September 2022 to be called on by the Capacity Market in times of exceptional need like this week.
Overnight on Wednesday, coal power was contributing between 3.3% and 4.4% of Britain's electricity, higher than usual.
Drax, EDF and Uniper's Ratcliffe-on-Soar coal power station are expected to draw eye-watering payments for the electricity they generate over the next few days.
The market price of one of Britain's main electricity auctions cleared at a record price of £2,500 per megawatt-hour for Wednesday's evening peak, many times the typical caseload price of about £40/MWh seen throughout 2019 and 2020.
Day-ahead prices jumped nearly 19% on the news of the fire. At £475/MWh, they're approaching a record high of £540/MWh, reached earlier this week.
Electricity prices were already surging on the back of natural gas shortages, nuclear outages, low wind levels and increased demand from reopening economies. The outage of the IFA1 interconnector could push prices still higher, causing further pain to energy suppliers, households and the wider economy, especially as the mercury falls.
The closure "puts the GB market in a risky position for the winter and especially if we suffer from periods of low wind and cold temperatures," Phil Hewitt, director of consultancy EnAppSys, said.
Elevated wholesale prices are already taking out energy suppliers. Four have folded in the last nine days (PfP Energy and Money Plus Energy last week and People's Energy and Utility Point this week), affecting two-thirds of a million households.
High wholesale energy prices over the summer—typically a period of lower prices—prompted regulator Ofgem to add £139 to the energy price cap from 1 October. While households will be spared further price hikes after that date, another upward adjustment of the cap in April is expected.
High electricity prices will also contribute to business's expenses, fuelling inflation and potentially strangling British industry.
Gareth State, director general of trade group UK Steel, said "extortionate prices" are forcing steelmakers to suspend work when electricity prices are their highest.
"Last year, prices were roughly £50 per megawatt hour. Even with the global steel market as buoyant as it is, these eye-watering prices are making it impossible to profitably make steel at certain times of the day and night," he said.
"Electricity prices increase in the winter months, therefore the situation gets more urgent each and every day."