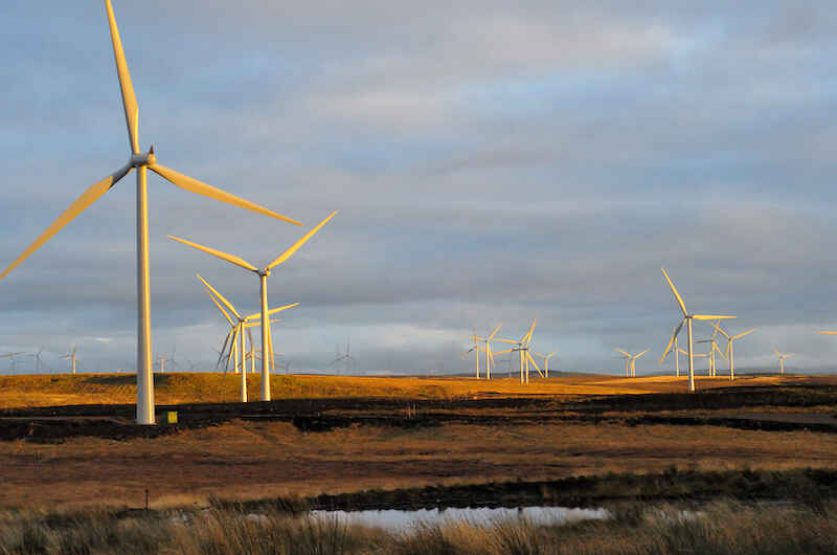 Doubling the UK's onshore wind capacity by 2030 would save every household £25 on their energy bills each year, trade body RenewableUK has calculated, as it urges the government to be more ambitious in its deployment of the renewable technology.
With the cost of electricity from new onshore wind projects now lower than the wholesale electricity price, boosting the UK's onshore wind sector would slash a total of £16.3 billion from energy bills over a decade—savings essential as the country faces an increased struggle to secure natural gas supplies.
Doubling the UK's onshore wind capacity from the 13.8GW currently live will also generate £45 billion of economic activity and create 27,000 full-time jobs in the sector and its supply chain, Renewable UK's new Onshore Wind Industry Prospectus forecasts.
Some of this benefit would come from the harnessing of onshore wind to produce green hydrogen gas, which can be used decarbonise heat, transport and industry. Using onshore wind to power electrolysis producing clean hydrogen would generate £1.4 billion of economic activity and support 1,000 full-time jobs between now and 2030.
Onshore wind could ultimately support 1.7GW of green hydrogen capacity, a substantial part of the 5GW the government is aiming to have live by 2030.
"As it's one of the cheapest ways to generate new power, onshore wind will reduce energy bills for consumers who are being hit hard by massive increases in gas prices," said Matthieu Hue, CEO of EDF Renewables and chair of RenewableUK's Onshore Wind Steering Group.
"It can also create tens of thousands of high-quality jobs in parts of the UK which need levelling up. Our Onshore Wind Prospectus makes a clear offer to government that the industry is standing ready to work with ministers to maximise growth in the UK's supply chain, inward investment and exports."
The government previously announced its intention to quadruple the UK's offshore wind capacity to 40GW and power every household with offshore turbines by the end of the decade. However, the cheaper onshore wind was been neglected.
Although the government in March 2020 reversed a policy that prevented onshore wind from competing for subsidies, onshore wind farms are still easily blocked by local government in England, meaning most installations are happening in Scotland. This is despite 72% of the public wanting the government to set a long-term target for wind ahead of COP26 in Glasgow in November.
The Climate Change Committee (CCC), the government's independent advisors, has calculated that the UK needs to install 35GW of onshore wind by 2035 for its 2050 net-zero goal to be within reach. However, deployments aren't happening fast enough: just over 600MW of onshore wind capacity is being installed each year on average, instead of the 1,250MW needed.
RenewableUK has outlined steps the government could take to speed the rollout. These include overhauling the planning systems in all four nations to give a greater voice to the majority of Britons who support onshore wind and running annual Contracts for Difference (CfD) auctions. The first CfD auction in which onshore wind will compete for five years will take place in December.
"These actions will unlock the vast economic and environmental opportunities that onshore wind offers. By maximising the benefits of onshore wind, the UK can set a great example to the rest of the world at COP26 in Glasgow, the most important international climate change summit for years," said RenewableUK CEO Dan McGrail.