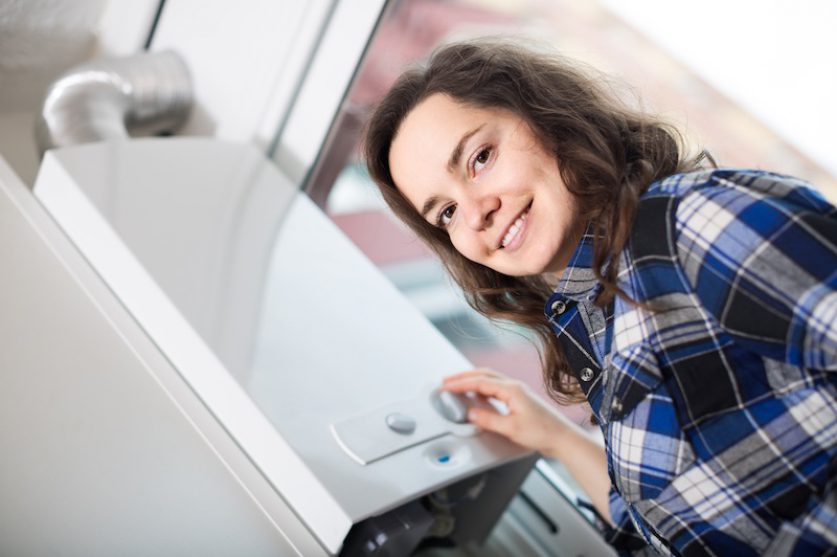 The head of the consumer division at energy giant Centrica has urged the government to accelerate the ban on fossil fuel heating systems in new homes from 2025 to today.
Writing in a collection of essays published by conservative think tank Bright Blue, Sarwjit Sambhi, chief executive of Centrica Consumer, said the urgent decarbonisation of home heat would be essential to the UK's net-zero ambition.
He noted that much of the progress made thus far in cutting greenhouse gas emissions in the UK had come from decarbonising the electricity system. Emissions have been slashed by nearly two-thirds in the energy sector since 1990 as renewable generators have replaced coal-fired power stations, with little effect on consumers. The electricity that comes out of our sockets has remained the same, regardless of where it was generated.
In contrast, transforming the UK's heating system, now responsible for a third of the country's emissions, will impact consumers more closely and require changes at the level of each home, Sambhi said. 2,000 homes must become net-zero each day for the UK to reach its overall target of net-zero emissions by 200.
Consumers can already take action to trim the emissions associated with their heat, Sambhi wrote. Installing a Hive smart thermostat can save each home up to 0.5 tonnes of carbon emissions each year, and switching to a high-efficiency combination boiler can save a similar amount.
"But significantly more savings will require the creation of a new, well-functioning market for low carbon heating options," he wrote. The creation of this market can start with banning new-build homes from having gas connections and requiring they use low carbon alternatives instead.
The government has proposed a new Future Homes Standard that will prohibit gas connections in new homes by 2025. But Sambhi said the ban should be brought forward to today.
"There is no real reason to delay its full implementation by five years, not least of all as developers had previously expected to comply with a similar standard by 2013," he wrote.
Around 200,000 new homes are being built in the UK each year, and the government has ambitions to increase that figure. "Every new home built needs to be as close to net-zero as possible if we are to avoid locking in new carbon-emitting housing stock into our economy," Sambhi wrote.
He said Centrica, owner of British Gas, already has partnerships with housing developers and will be announcing further involvement in low carbon heating in the coming months.
He also said that the installation of costly and polluting oil heating systems in the estimated four million homes off the UK's gas grid must be halted and cheaper, cleaner low carbon alternatives, such as heat pumps and green gas installations, put in place instead. To that end, Centrica has partnered with Calor Gas, leading supplier of LPG, to supply green gas tanks to off-grid households which request them.
Beyond new build and off-grid homes, decarbonising the heating supply of the 20 million homes reliant on the gas network will be costlier and more challenging. Increasing the portion of our gas that is green by injecting higher volumes of biomethane and hydrogen into the network will help, Sambhi said. However, heating systems must also be replaced at the individual level.
The previous consensus that these homes should be converted to use electricity for heat has faded, as it became apparent that the electricity grid would struggle to cope with the added demand, particularly as electric vehicles replace petrol and diesel cars. Instead, Sambhi pointed to a recommendation by the Committee on Climate Change (CCC), the government's independent climate advisors, to continue using the gas grid but install hybrid heat pumps in homes. These hybrid systems combine small capacity gas boilers with air source heat pumps.
Hybrid heat pumps are an ideal solution because "they do not require swapping out radiators or extensive energy efficiency upgrades to homes, and they keep the pathway and optionality open for a hydrogen future for the gas network," he wrote.
The government recently announced that it will replace the current Renewable Heat Incentive with £4k grants to enable homes and businesses to install low carbon heating systems, including hybrid heat pumps.
However, another study has suggested that the decarbonisation of heat is being stymied by a lack of public awareness of the climate impact of gas heating. A survey conducted by Energy Systems Catapult in January found that fewer than half of respondents understood the link between their gas boiler and greenhouse gas emissions.