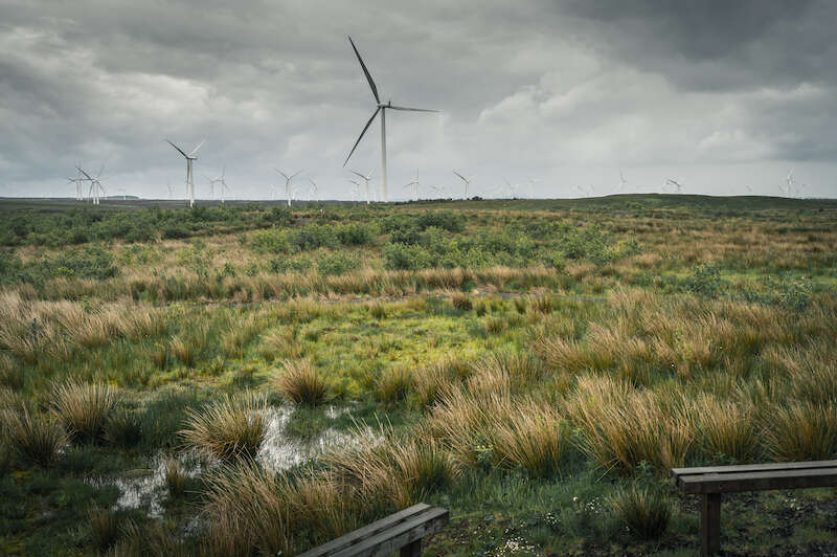 Minister Grant Shapps has pushed back against the government's reported plans to massively increase onshore wind farms, describing turbines as "eyesores" on Sky News' Ridge on Sunday programme.
The government is expected to publish a new energy strategy this week, outlining how the UK can reduce dependence on imported natural gas in order to distance itself from Russia and prevent future spikes in energy bills.
A large increase in onshore wind capacity is expected to be a pillar of this new strategy, with Energy Secretary Kwasi Kwarteng reportedly favouring doubling onshore wind power by 2030 and tripling it by 2035.
Prime Minister Boris Johnson himself has suggested the strategy will focus on renewables and nuclear rather than the North Sea oil expansion and fracking favoured by some Tory backbenchers. 
However, onshore wind has been a contentious topic in the Conservative Party, especially among grassroots members who oppose the installation of wind turbines in their areas.
In 2016, David Cameron's government blocked onshore wind farms from competing for government subsidies. The policy constituted an effective ban, environmental campaigners said, and send onshore installations plummeting.
Boris Johnson later reversed the policy, permitting onshore wind farms to enter Contracts for Difference auctions from 2021. Now the government is reportedly considering loosening planning restrictions on onshore wind to facilitate a vast expansion in capacity over the next 15 years.
But Transport Secretary Shapps' comments on Sunday television suggest fissures remain in the party and Cabinet about onshore turbines.
"I don't favour a vast increase in onshore wind farms, for pretty obvious reasons – they sit on the hills there and can create something of an eyesore for communities as well as actual problems of noise as well," he said.
Questioned about whether that meant the government would eschew onshore wind, he said: 'I'd urge you to wait for the energy strategy later in the week.
"But my thinking is what you really want to do is develop in other ways – nuclear, we will have offshore wind. I don't think you want a huge expansion of onshore wind."
Cabinet rows about lifting planning restrictions on onshore wind installations are behind the weeks-long delay in the publication of the new energy strategy, The Independent reported.
Kwarteng told the Sunday Telegraph that while he personally favoured onshore wind and would happily live near a turbine, he'd bow to local opposition. "The thing with onshore wind and with fracking is that it has to be community consent," he said.
"We don't live in a totalitarian country where the government, the man or woman in Whitehall, can say 'Right, we're going to do this', without some large measure of consent from local communities. And in both of those technologies, frankly, there has been considerable local opposition.
"That doesn't mean to say we're shutting the door on both, but it does mean that any movement has to have a large measure of local consent," he added.
There's also dissent among ministers about nuclear power. Johnson reportedly wants to source a quarter of Britain's electricity from nuclear power, requiring seven new nuclear plants by 2050 – at a cost that is alarming to Chancellor Rishi Sunak.
A spokesperson for Number 10 said: "Next week we will set out an ambitious plan to supercharge our use of a diverse range of renewables including offshore wind, solar and hydrogen—all underpinned by nuclear and continued support for our North Sea oil and gas sector."

Sources: Sky News: "Grant Shapps says he does not support 'a vast increase' in onshore wind farms ahead of the energy security strategy reveal next week"
The Independent: "Grant Shapps attacks new onshore wind turbines as 'eyesore on the hills', exposing cabinet split"