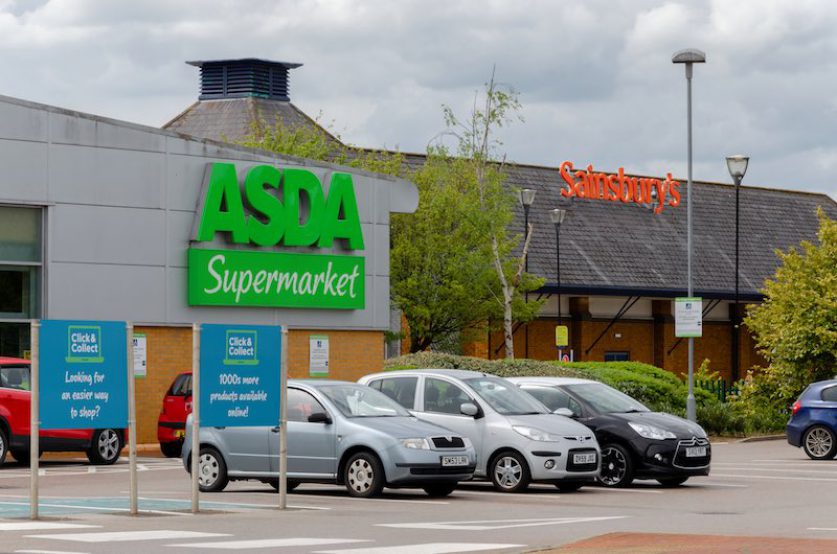 Sainsbury's and Asda have individually announced plans to slash their carbon emissions, as supermarket giants respond to the government's climate targets and pressures from environmentally conscious consumers.
Sainsbury's announced last week that it will invest £1 billion to become carbon-neutral by 2040, 10 years ahead of the government's net-zero target date. The chain will cut emissions by making its fridges more efficient and increasing the use of alternative and low-carbon fuels by its vehicles.
Its 20-year programme will also reduce food waste, water consumption and plastic packaging, with an intermediate target of halving the use of plastic packaging by 2025.
The supermarket will also promote environmentally friendly behaviours, including recycling and sustainable and healthy eating, among its customers. For example, a pilot deposit return scheme being trialled in five stores will give customers a 5p coupon for every plastic bottle they return.
Chief executive Mike Coupe noted that the chain, Britain's third largest, had already reduced its carbon emissions by 35% over the past 15 years, while increasing its footprint by 40%. "We invested £260m in over 3,000 initiatives over the last decade, including the start of our LED lighting programme and refrigeration," he said.
Now Sainsbury's latest commitment will "transform the way we do business and put environmental impact at the forefront of every decision we make," he said.
He also said the chain, which has 2,300 locations across the UK, will also work with its suppliers and ask them to commit to reducing their emissions.
In 2018 Sainsbury's was named the UK's greenest supermarket by carbon analysts Engaged Tracking, with the lowest emissions intensity of the 10 largest chains.
Meanwhile, on Tuesday, competitor Asda committed to halving its scope 1 (direct) and 2 (power related) emissions by 2025, based on a 2015 baseline.
Asda said the commitment would require the chain, the UK's second largest, accelerate the work it has already undertaken on energy efficiency.
Sustainability manager Laura Babbs said: "Lighting, heating and cooling our stores is one of our biggest operational challenges and our teams are always working hard to reduce the impact they have on the environment."
Asda noted that it has kept its electricity consumption steady since 2005, while scaling up its operations by 200%, following investments in technologies including LED lighting, energy efficient fridges, remote monitoring and automated controls.
The supermarket will also work with suppliers to reduce food waste and plastic packaging and to prevent deforestation, improve soil and water quality and promote biodiversity.
Notably, Asda's commitments don't include its scope 3 emissions, indirect emissions from the company's value chain, including those related to purchased goods and services, transportation and distribution, waste disposal and use of sold products. 90% of Asda owner's Walmart's total emissions come from its supply chain. Engaged Tracking estimated that just 3% of Asda's emissions are scope 1 and 2.
However, parent company Walmart's Project Gigaton is aiming to avoid one million metric tonnes of emissions from its global value chain by 2030—the equivalent of more than the annual emissions of the Germany. 179 Asda suppliers have already signed up to the commitment, saving 29 million metric tonnes of emissions.
Rival Tesco, the UK's largest supermarket, has previously pledged to achieve carbon neutrality by 2050. Earlier this year it outlined plans to remove shrink-wrapped multi-packs of tinned food from its stores. Selling products like Heinz beans as multi-buys without extra packaging will help Tesco eliminate 350 tonnes of plastic packaging a year, part of a wider scheme to cut remove one billion pieces of plastic from its stores in 2020.
In 2019 German retailer Aldi—once slated by Engaged Tracking as one of the UK's most polluting supermarkets— announced it will buy carbon credits to offset emissions by its 870 UK outlets and 11 distribution centres. The discount supermarket will also reduce emissions by switching to renewable energy, upgrading fridges and freezers and cutting fuel consumption across its distribution networks.
Overall, retail food outlets are responsible for 3% of the UK's total electricity consumption and 1% of its greenhouse gas emissions, a 2011 academic study found.
Environmental groups have welcomed the decarbonisation plans of supermarkets and suggested the stores can be key players in helping consumers adopt more sustainable lifestyles.
Mike Childs, head of policy at Friends of the Earth, said:  "Supermarkets have a huge influence on our personal carbon footprints, so the more they can do to embrace and encourage greener lifestyles, the better for us all.
"Encouraging and supporting the switch to a more plant-based diet is particularly important — eating less, but better quality, meat and dairy would be healthier for people and the planet. The influence supermarket chains have over suppliers is also huge – they must use that to encourage better environmental standards while still ensuring a fair deal for farmers," he added.