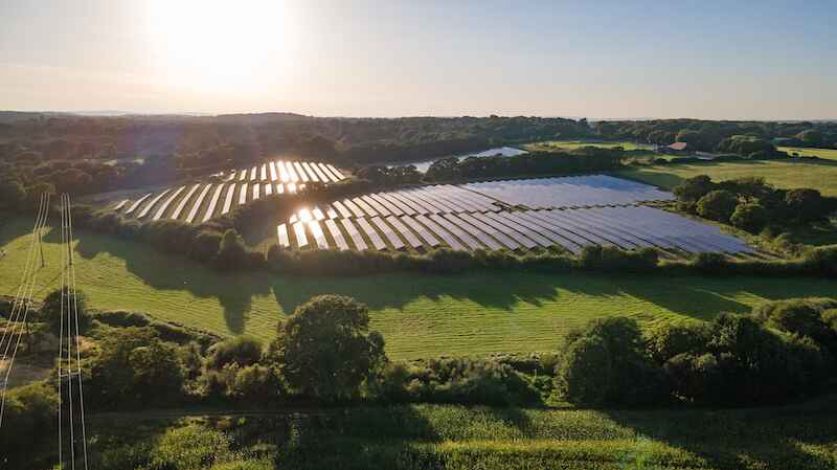 Solar power generated 6.6% of Great Britain's power in April, with bright, balmy weather helping to reduce the electricity grid's carbon emissions.
According to the National Grid Electricity System Operator (ESO), wind generation remained the same between March and April, producing 23% of Britain's electricity. But solar generation increased, from 4.4% in March. Britain currently has 14.4GW of solar power capacity, split between large-scale farms and rooftop installations.
Higher contribution from solar meant carbon intensity fell to a low of 40g of CO2 per kilowatt-hour (gCO2/KWh) at 1 pm on St George's Day, 23 April. That was almost equal to the record low of 39gCO2/KWh, set on Easter Monday 2021.
Across April 2022, the average carbon intensity of the grid was 181gCO2/KWh, down modestly from March (186gCO2/KWh) and from April 2021 (200gCO2/KWh).
In total, 23 terawatt-hours (TWh) of electricity ran through Britain's grid in April, enough to power 23 billion washing machine cycles, the ESO said. The highest demand was seen at 7 pm on 1 April.
Overall, 48% of that power came from low-carbon sources, including nuclear and hydro, last month. Low-carbon sources' share of electricity generation peaked at 84%, just off the record of 85.2% set one day in August 2019.
However, natural gas continued to top the generation mix, producing 40% of Britain's power in April, up 4% from the previous month.
With natural gas prices at record highs, that means steep electricity prices.
Day-ahead electricity prices for April averaged just under £183 per megawatt-hour. That was 29.8% lower than in March, as the immediate price shock of Russia's invasion of Ukraine settled. However, wholesale electricity prices were around 165% higher than in April 2021.
Continued high wholesale energy prices will feed into an even further increase in the energy price cap at its next adjustment in October. The Bank of England and Office for Budget Responsibility have each projected the price cap will be set at £2,800 over the winter of 2022-23, while Scottish Power has forecast the cap could be as high as £2,900.
Amid the crisis, the government has set out a new energy security strategy designed to reduce Britain's dependence on imported fossil fuels.

Solar power is one keystone of this strategy, with the government noting that its price has fallen by 85% over the past decade. The government is pushing a five-fold increase in solar capacity, to around 70GW, by 2035, and considering overhauling planning laws to make installations easier.
Source: National Grid ESO: "Britain's Electricity Explained: April 2022"