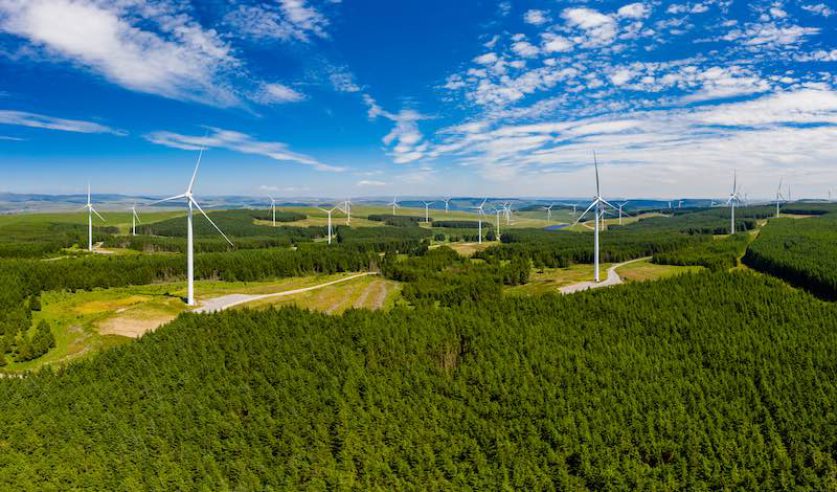 Onshore wind deployments could more than double by the end of the decade, hitting 30GW, according to new projects from trade body RenewableUK.
There is currently 13.6GW of onshore wind capacity in operation in the UK, but further rollout has been hampered by the banning of onshore wind from competing in Contracts for Difference auctions for government subsidies, in effect since 2016. 
The withdrawal of subsidies led to the cancellation of 250 planned wind farms and sent new installations tumbling to the lowest level in a decade in 2019, according to data from Renewable UK. The trade association previously warned that the stymieing of onshore wind was jeopardising the UK's net-zero target and other climate goals.
Boris Johnson's government reversed the policy of a previous Tory administration in March, allowing onshore wind farms to compete in the next round of auctions, to be held in 2021. New subsidised onshore wind farms are expected to come online by the middle of the decade.
RenewableUK's latest Onshore Wind Project Intelligence Report forecasts that the resumption of subsidies and falling technology costs will drive huge growth in the onshore sector over the next decade. 
The Department of Business, Energy and Industrial Strategy (BEIS) this summer revised downward the projected cost of electricity generated by onshore wind, from £65/MWh to £46/MWh by 2025.
If all wind farms in the development pipeline right now are completed, onshore wind will see significant growth from 2025 onwards, with capacity reaching 30,361MW by the end of 2029.
That figure includes onshore wind projects that are currently operational, those under construction, those consented, and those submitted into the planning system or being developed for submission into planning.
The Committee on Climate Change (CCC), the government's independent climate advisors, have recommended that the UK should have at least 35GW of onshore wind operational by 2023, installing new capacity at a rate of at least 1GW a year. RenewableUK's "optimum scenario" shows this target is achievable, provided that the UK implements the proper planning framework and that projects receive consent in a "timely manner."
Deploying that much onshore wind capacity would require £46 billion in new investment but would support more than 30,000 jobs and save the typical household £50 a year on their energy bills, RenewableUK said.
Rebecca Williams, policy and regulation head at the trade body, said: "Now that onshore wind is firmly back on the table, companies are bringing forward projects at a scale that can make a huge contribution to building back greener.
"Onshore wind is one of the cheapest ways to generate clean power and we can ramp up this technology rapidly to reach net zero emissions.
"Next year's auction for new clean energy contracts is a crucial step in unlocking the new jobs and investment that onshore wind can deliver as part of the green recovery. Our latest forecast shows what's possible, but we need the right policy levers and regulation in place to make it happen."