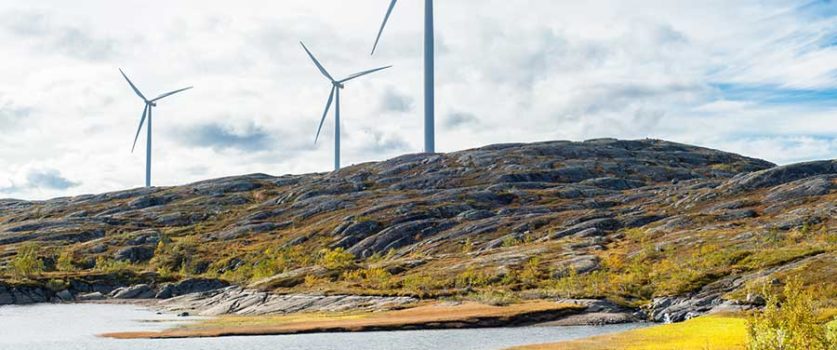 2017 was a banner year for onshore wind deployment, but government policy is stifling future investment in the sector, industry body RenewableUK has warned.
More onshore wind capacity was installed in 2017 than any other year, with 2,611MW coming online, representing 20% of the UK's total onshore wind capacity.
Onshore wind supplied 9% of the UK's electricity last year, saving 13.4 million tonnes of CO2 and indicating that onshore wind has a vital role to play in the UK's transition to green energy, RenewableUK argued.
The vast majority of the infrastructure was installed outside of England, with 1,673MW deployed in Scotland, 356MW in Wales, and 247MW in Northern Ireland. RenewableUK says this represented £5.3 billion of investment, with 87% of it spent in Scotland and Northern Ireland.
However, a report from RenewableUK has cast doubt on the future of the sector, cautioning that a government policy that prohibits onshore wind projects from competing for clean energy contracts, known as Contracts for Difference (CfDs), is stalling investment and installation. The amount of new capacity deployed in 2018 and 2019 is expected to drop significantly.
"Onshore wind is a major success story in the UK's low carbon economy and is now the cheapest option for new power," said Emma Pinchbeck, executive director at RenewableUK. "[But] by excluding onshore wind from the market, the Government is putting at risk billions of pounds of new investment annually across the UK and making it more expensive to meet its own climate change targets."
The reports warns that without a reversal of the government's policy toward onshore wind, consumers will see energy bills rise and investment in communities in Scotland and Wales dwindle.
The report echoes findings by renewable energy consultants BVG Associates, which earlier this year calculated that lifting the ban on onshore wind bidding for CfDs could bring online 5GW of capacity between 2019 and 2025. This would deliver £1.6bn of paybacks to UK homes and businesses over the same period.
ScottishPower Renewables' chief executive Lindsay McQuade said the delivery of this additional capacity could add £12bn to the UK economy and supporting 18,000 construction jobs and 8,500 long-term skilled jobs.
Meanwhile, the Energy and Climate Intelligence Unit (ECIU) has previously slated the government's "perverse" policy on onshore wind, saying it will cost the UK economy £1bn over the next four or five years.
The government defended its policy, which have evolved in recent years. While the 2015 Conservative Party manifesto came out strongly against onshore wind, the current position of the government is to subsidise some projects in Scotland. However, a spokesperson for the Department for Business, Energy, and Industrial Strategy (BEIS) reiterated that "the government does not believe new large scale onshore wind power is right for England."
The government has pointed to the handful of onshore wind projects being developed without government subsidy, relying instead on long-term contracts with customers. German renewables firm Energiekontor AG started construction in May on the UK's first unsubsidised wind farm, the 8.2MW Withernwick II project in Yorkshire, and last week won planning permission for the first subsidy free onshore wind farm in Scotland, to be built outside of Hawick.
However, industry experts have argued that the private sector is unlikely to be able to deliver enough capacity to help the UK meet its decarbonisation targets and that allowing onshore wind projects to bid for CfDs could lower bills for consumers.