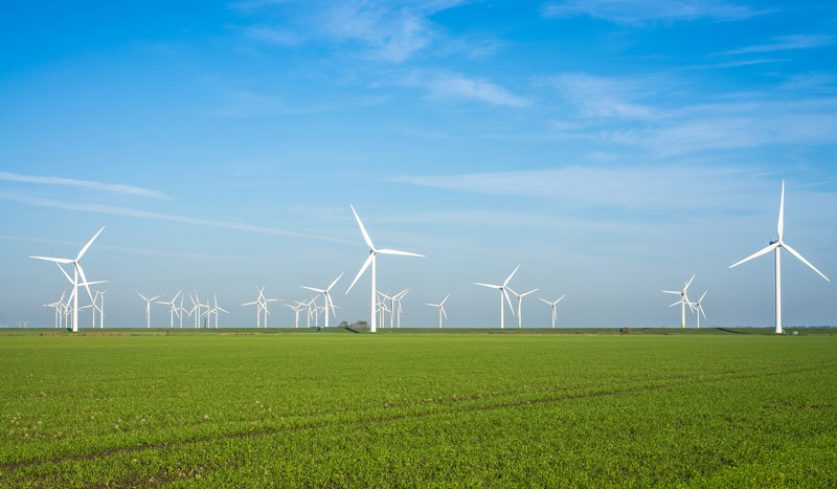 The UK will miss its legally binding net zero by 2050 target unless it significantly ramps up its onshore wind capacity, according RenewableUK.
A revamped onshore wind policy will be vital to any credible decarbonisation plan put forward by the next government, the trade body has said.
"We are on the eve of what should be the greenest election the UK has ever seen," Rebecca Williams, RenewableUK's head of policy and regulation, said.
"Public demand for action to tackle climate change has never been higher and the next government will have to deliver ambitious, credible plans that put us on track to meet our net zero emissions target."
That will have to include a rethink of a policy that has been branded an effective ban on new onshore wind turbines.
The UK currently has 13.5GW of onshore wind capacity. However, turbine installations have stalled since 2015, when the Conservative government banned onshore wind projects from competing for clean energy contracts in Contracts for Difference (CfD) auctions.
Industry groups and green activists have lobbied against the exclusion of onshore wind projects from CfD auctions, which they say is depriving the UK of the benefits of the cheapest source of new energy generation.
Without access to CfD contracts, onshore wind developers have to rely on private Power Purchase Agreements (PPAs) with large corporations.
The market for PPAs has expanded in recent years. Earlier this year Google revealed details of the largest PPA agreement in history: $2 billion to give the internet giant access to 1,600MW of renewable capacity around the world.
In the UK, Tesco recently reached several PPA agreements to give it direct access to electricity generated by onshore wind and solar farms. A group of UK universities, including Newcastle University and the University of Exeter, became the first public sector entities to enter into a PPA, in a 10-year deal with Norwegian wind farm owner Statkraft.
However, RenewableUK has warned that PPAs pose more of risks to developers than CfDs and alone won't enable the industry to deliver the capacity needed to meet the UK's decarbonisation goals.
RenewableUK forecast that without a sea change in policy, by 2030 there could be as much as a 40% shortfall in the onshore wind capacity needed to achieve net zero.
The Committee on Climate Change (CCC) has previously advised that in order to hit its net zero targets, the UK must add at least 1GW of onshore wind capacity each year, to hit a total capacity of 29GW by 2030 and 35GW by 2035.
Growth in onshore wind capacity could lower electricity costs by 7% by 2035, previous research commissioned by RenewableUK has suggested. That would knock £50 from the average UK household's energy bills.
"Onshore wind is the single largest renewable power source in the UK and you can't be credible on net zero unless you're serious about onshore wind," Williams said.
"But without new policies, we won't get anywhere near the levels needed for net zero. Growing our onshore wind capacity in line with the CCC's recommendation will bring down consumer bills, and secure new investment and jobs in communities across the UK."
Labour and the Liberal Democrats have both committed to significantly expanding onshore wind capacity in the UK. The Conservative Party has yet to reveal its green energy policies for the next election but their manifesto in 2017 doubled down on their opposition to onshore wind.