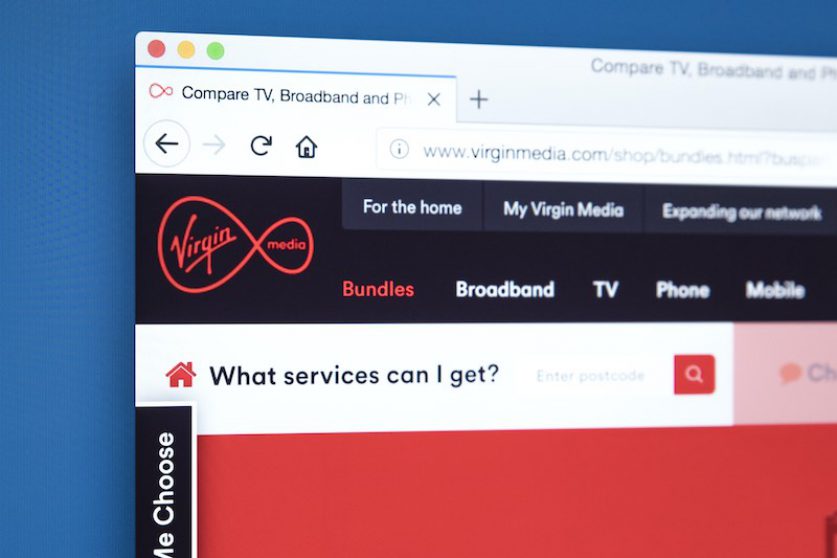 Virgin Media flipped the switch on its network upgrade in London and Northern Ireland on Wednesday night, making gigabit-capable broadband available to an additional three million households.
Virgin has been rolling out the DOCSIS 3.1 network upgrade to all 15 million households reached by its cable broadband network since last year. The upgrade boosts maximum download speeds on the network from 636Mbps from 1104Mbps (1.1Gbps).
3.6 million households, in parts of Southampton, Manchester, Reading, Birmingham, Coventry, Edinburgh, Liverpool, Leeds, Bradford, Glasgow, can already access the gigabit speeds. Yesterday's upgrade takes the total number to 6.8 million, with the remainder to be connected before the end of 2021.
The Gig1Fibre package costs £62 a month standalone on an 18-month contract with a guaranteed price freeze for at least 24 months. The package can also be paired with Virgin's pay TV packages, for an additional cost. Subscribers will receive Virgin Media's new HUB 4.0 router.
Lutz Schüler, CEO of Virgin Media, said: "It has never been clearer that our services play a vital role in supporting people's everyday lives and powering the economy. The nation needs next-generation connectivity and we're delivering.
"Our ambitious target will see us roll-out gigabit speeds across our entire network of more than 15 million homes by the end of next year. We're on track to deliver that promise with homes in London and Northern Ireland the latest to gain access to blisteringly-fast Gig1 services.
"As our rollout continues at a speed and scale unmatched by anyone else, whatever the future holds, we're keeping our customers and the country connected to what's next."
London Mayor Sadiq Khan welcomed the rollout and Virgin's further plans to invest in the capital.
"The rollout of ultrafast broadband is vital for London's future: it will create jobs, stimulate growth and give a much-needed boost to businesses at a crucial time," he said.
"It's great news that Virgin Media is continuing to invest in London and ensuring six million Londoners can access gigabit speeds."
Meanwhile, the Virgin upgrade makes Northern Ireland one of the best regions in the UK for broadband. The country already enjoys 50% coverage from Openreach's FTTP network, where speeds top out at 1Gbps.
With plans to reach around 60% of UK premise with the upgrade by the end of next year, Virgin Media will play a key role in delivering Boris Johnson's promise of universal gigabit broadband coverage by 2025.
Other gigabit connections are being delivered by Openreach (BT), which has reached 3.5 million households with its full-fibre network and is aiming to connect 20 million by the mid to late 2020s, and a range of alternative network providers.
However, Thinkbroadband has cautioned that gigabit availability will likely only stand at 75% by 2025, with overbuild expected in built-up areas and rural regions neglected.
Meanwhile, Virgin Media is in the process of a £31 billion merger with mobile operator O2, expected to be completed next year.