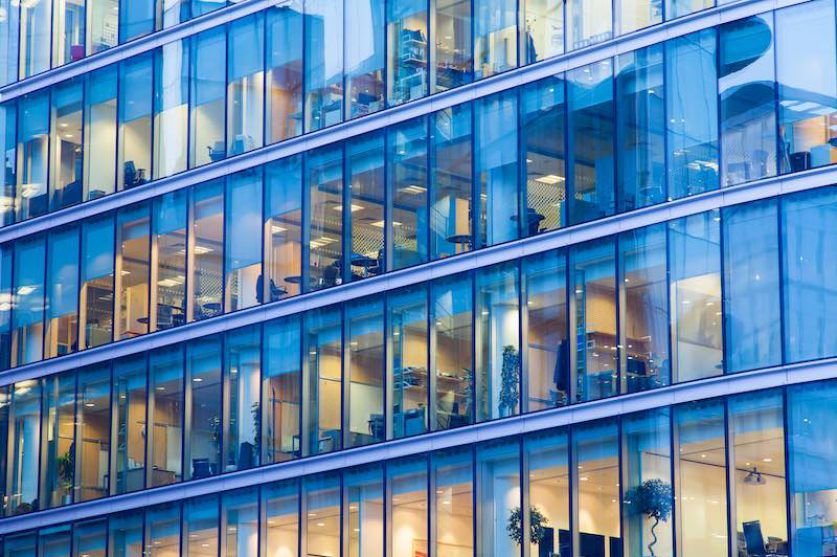 Energy wasted in office buildings across five British cities is adding £60 million to companies' energy bills each year, according to a report by think tank Green Alliance.
The amount of energy wasted by office buildings in the City of London alone could power 65,000 homes, or all houses in Kingston upon Thames.
That squandered energy is costing City-based businesses £35 million a year and yielding carbon emissions equivalent to those emitted annually by 46,000 cars, Green Alliance has calculated.
An additional 3,300 office buildings in Birmingham, Bristol, Manchester, and Leeds are wasting enough energy to power 42,000 homes, as companies based in those cities spend £25 million too much on their electricity and gas.
Green Alliance said that most office buildings in the UK are inefficient and that companies have made only "limited efforts" to increase efficiency. Energy consumption per square meter of office space has flatlined since 2002.
Overall, the built environment, including office buildings, is responsible for 40% of the UK's energy consumption and around a third of its emissions. MPs on the Business, Energy and Industrial Strategy (BEIS) Committee have warned that the UK "stands no chance" of meeting its net zero commitment unless it improves the efficiency of its buildings.
Green Alliance has urged companies to adopt smart energy technologies, including sensors and algorithms to track and adjust energy use in different parts of their buildings, to cut both their utility bills and impact on the environment.
Artificial intelligence (AI) energy optimisation systems could reduce energy consumption in commercial buildings by as much as 14%, paying for themselves within months, Green Alliance said. AI systems could save City of London businesses alone £13 million on their energy bills within a year.
The report's findings echo those of EDF, which analysed 4,000 commercial premises last year. The commercial and domestic supplier found that simple efficiency measures, including energy efficient lighting and better heat management, could save businesses an average of £46,000 on their energy bills each year.
But the uptake of efficiency measures by businesses has been slow.  In October Npower Business Solutions found that fewer than one in five (18%) energy managers at top UK companies see sustainability as their top priority.
In January, E.ON reported that 38% of retailers are leaving savings on the table by not introducing efficiency measures in their shopfronts and warehouses.
Caterina Brandmayr, Senior Policy Analyst at Green Alliance, said: "We all work for or know businesses that waste energy, whether it's leaving lights on at night or wasting heat. It's hard to see why dealing with this problem isn't yet a priority, for companies in terms of cost savings or for the government in reaching its carbon targets.
"Digital technology is an obvious and inexpensive way to track and control energy use, cutting business costs and carbon emissions. Cities will play a leading role in cutting emissions and would be a great place to start the UK's business energy efficiency revolution."
Sophie Walker, head of sustainability at commercial property agents JLL UK, said the report's findings were "very welcome" but suggested that change would require more action from government.
"What this report does is again emphasise the easy cost savings still to be achieved from focussing on energy efficiency. It's environmental realpolitik and will help drive forward net-zero carbon commitments.
"There are still quick wins and there is still a huge amount of building optimisation to be done, and we at JLL are strongly encouraging all our clients to view net-zero and energy efficiency as a strategic business priority. But, fundamentally, to affect the mainstream rapidly, what we need is the government to learn from the industry first movers and put regulation in place to accelerate change."
The government has proposed requiring all rented commercial buildings to operate at a minimum energy efficiency standard of EPC band B by 2030. That alone could save businesses £1 billion a year on energy bills, the government has forecast.
Green Alliance has also encouraged the government implement an incentive system for businesses like Australia's National Australian Built Environment Rating System (NABERS), which requires companies disclose the energy performance of their buildings annually and encourages the use of digital efficiency solutions. The NABERS has reduced the energy used by Australia's office buildings by more than 40% since it was implemented 13 years ago.