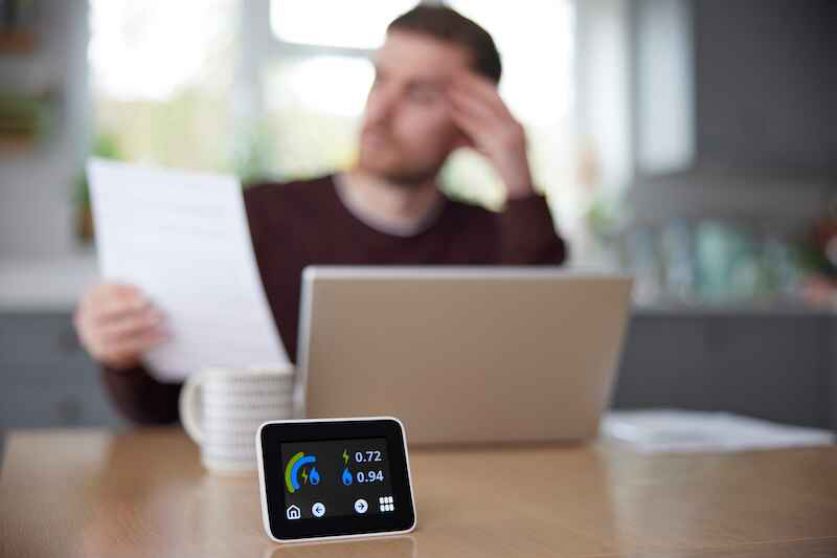 Consumer spending on utility bills soared by 34.5% in May compared to the previous year as the dramatic hike in the energy price cap took effect, Barclaycard has revealed.
The card provider sees nearly half of the UK's debit and credit card transactions, which gives it "unique insight" into consumer spending. It releases reports analysing where Brits' pounds are going each month. The latest, covering 23 April to 20 May 2022, exposed the mounting impact of the cost of living crisis on household finances.
Much of the crisis is being fuelled by a 54% increase in the energy price cap, which took effect on 1 April. Many households with credit meters didn't see the higher costs until their May bills arrived. Barclaycard analysed current account data to see their direct debits to energy suppliers, the most common way to pay for gas and electricity.
Water bills are also up, but just modestly: by an average of 1.7%, below inflation, in England and Wales in April.
But the surge in energy bills has left nearly nine in 10 (88%) of Brits concerned about their utility bills. Four in 10 (44%) are looking for ways to reduce their gas, electricity, and water consumption at home.
Barclaycard's data on utility spending echoes a similar study from rival Lloyds Bank, which found that UK households spent 28% more on energy in April compared to the previous April.
Energy bills are forecast to rise again, to a projected £2,800-£2,900/year, in October, increasing the strain on household budgets. Some of that hike will be offset by additional relief measures, announced by the Chancellor in late May following weeks of urging from consumer advocates, charities, Labour, and Conservative backbenchers.
Households will now see a £400 non-repayable discount on their October energy bills, while vulnerable groups, including those on benefits, pensioners, and people with disabilities, will see extra payments to offset gas and electricity prices.
José Carvalho, Head of Consumer Products at Barclaycard, said the extra energy bill help, alongside the Platinum Jubilee, may boost flagging consumer confidence, at least in the short-term.
Barclaycard also found that spending on other essentials, including groceries and transport, rose by 4.8% year-on-year, propped up inflation and a surge in fuel prices. Consumers spent 24.8% more at the pump as petrol and diesel prices continued to rise.
Some of the growth in transport spending is a result of more workers commuting to the offices compared to last May when work from home guidance was still in place. Spending on public transport was up 83.3% year-on-year, while rail fares rose just 3.8%.
Spending at supermarkets and specialist food and drink shops was down slightly (-2% and 0.9%, respectively), compared to last year. That's despite high inflation in food prices: the Consumer Price Index (CPI) revealed that the cost of food and drink was up 6.7% annually in April 2022. The decrease in grocery spending may be because, with restaurants and pubs now open, Brits are cooking at home less than they were a year ago, Barclyardcard said
Additionally, supermarket baskets are just one area where people are trying to make savings. A survey commissioned by Barclaycard revealed that more than two-fifths (41%) of consumers are looking for ways to reduce the cost of their weekly shop.
Meanwhile, spending on non-essential items was up 11.6% year-on-year. This increase was largely driven by significant uplifts (67.2%) in hospitality and leisure spending compared to May 2021, when gatherings were limited to six people and indoor venues were open only in the latter half of the month.
However, this was the smallest rise in non-essential spending since March 2021. This was partly because some retail sectors didn't see the same demand they did in May 2021, when they benefited from pent-up demand after months of restrictions on non-essential shops.
But the slow growth in non-essential spending is also because many households are cutting back on discretionary spending as they face the toughest squeeze on their finances in decades.
Furniture stores in particular saw sharp dips in spending—down 25.4% from May 2021 and 3.1% from April—as customers delayed spending on big-ticket items.
Brits also cut back on the digital content that many relied on during the pandemic. Spending on digital content and subscriptions, including streaming services, was down 5.7% year-on-year. Barclaycard found that a fifth (21%) of consumers are reviewing their subscriptions to see what they can live without. 18% have already cancelled a TV or streaming service.
Sports and outdoors retailers, which saw a surge in demand last spring as consumers prepared for a Covid-safe summer, also saw a steep fall in spending compared to last year (down 19.6%). However, spending there was still up from April (+4%), suggesting that consumers are still readying for summer leisure, despite money worries.
Similarly, clothing retailers also saw more spending compared to April (up 8.6%) as people updated their wardrobe for the first summer free of pandemic restrictions since 2019. That refresh is costlier than ever: inflation in clothing and footwear prices hit 8.3% in April, the highest level seen since at least 1989.
Consumers are also still proceeding with holidays. The travel industry saw triple-digit growth (189.7%) compared to last year, boosted by the lifting of most international travel restrictions. Travel spending also grew month-on-month, with travel agents seeing a 24.2% increase in bookings and airlines seeing 6.6% more spending compared to April. Domestic hotels, resorts, and accommodation also saw monthly growth (1.2%), suggesting that many Brits are still favouring staycations.
However, spending on eating and drinking out has fallen throughout the spring, with restaurant spending down 5.9% compared to April and transactions at bars, pubs, and clubs down 1.2%. That decline suggests that the post-pandemic boom in those sectors is being replaced by budget-conscious restraint.
"The cost of living squeeze is clearly influencing discretionary spending habits, with figures showing a decline in subscriptions, and a drop in spending at restaurants, bars, pubs and clubs," Carvalho said.
"Despite this, there are some encouraging signs, particularly in travel industry, as Brits' appetite for going abroad continues to grow as we approach the summer holidays."
One benefit of a holiday abroad? That's one week you can minimise gas and electricity use at home.