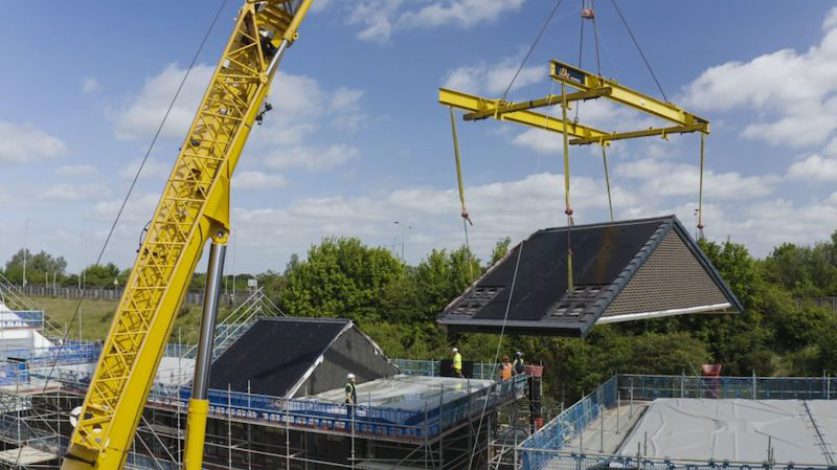 Energy supplier Octopus is partnering with modular home builder ilke to construct zero-carbon houses that will also guarantee residents zero energy bills.
The factory-built homes will be outfitted with air source heat pumps, solar panels, and battery storage systems to provide round-the-clock clean electricity.
The properties are intended to be self-sufficient but will also be connected to the grid to draw electricity when their system doesn't generate enough. Octopus Energy is offering the homeowners a bespoke tariff, guaranteeing they won't pay for that energy.
Octopus says the residents will pay nothing for their electricity unless they consume more than 10MhW per year, triple the standard annual usage of a household.
Buyers will pay an extra £8,000-£9,000 when they purchase the homes, to cover the solar panels, battery storage, and heat pumps. However, with energy bills forecast to jump to £2,800/year in the autumn and remain elevated at least until 2024, they'll earn that money back quickly, ilke chief executive Giles Carter said.
Octopus's guarantee of zero bills is initially being made for a 12-month period, but the firms say they expect to roll on the zero tariff indefinitely.
Octopus found and chief executive Greg Jackson said the partnership will transform the energy market, just as families face the worst cost of living squeeze in decades.
It will also "debunks a long-standing myth – that cleaner energy will mean higher bills for consumers. Instead, people living in these homes won't be paying for energy at all," he said.
"This is yet another demonstration that clean energy is cheap energy, and the best answer to the fossil fuel crisis is accelerating the transition to renewables," he added.
Carter said the project will "empower consumers, who are faced with one of the worst cost-of-living crises in decades, and demonstrate that net-zero and construction can work hand in hand".
Interested in moving in? The first two ZERO homes – two-bedroom semi-detached properties – will be installed in Stanford-le-Hope, Essex. Ilke has plans to expand the scheme to more than 10,000 homes by 2030.
The project is part of the wider 153-home scheme, branded Hope Green, that ilke is delivering with housing association So Resi and investors Gresham House. 101 of the properties in Hope Green will be zero-carbon and most will be on a single site.
Sources: Ilke Homes: "Innovative partnership between Octopus Energy and ilke Homes delivers UK's first ever homes to guarantee ZERO energy bills for residents"
The Financial Times: "Octopus and Ilke launch clean energy scheme with no bills for householders"