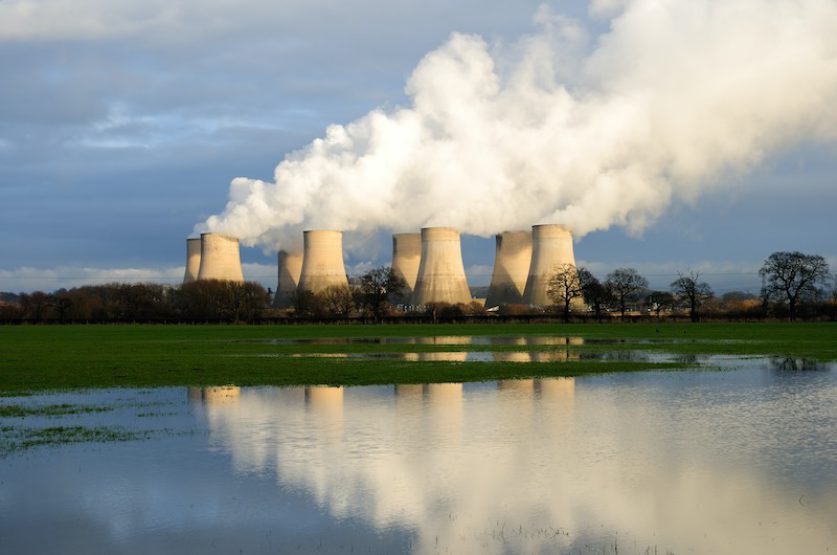 National Grid has called on a coal-fired power station for the first time in nearly two months, as the record-breaking heatwave stilled wind turbines and left gas-fired power stations struggling to function.
The Ratcliffe-on-Soar power station in Nottinghamshire, one of just four remaining in the UK, was powered up yesterday afternoon ahead of the evening peak in demand. That ended the UK's second-longest coal-free streak since industrialisation, at 55 days and 25 minutes.
Although electricity demand continues to be lower than usual due to the continuing impact of the coronavirus pandemic, supplies have become tighter during the recent heatwave. Yesterday afternoon, a number of power stations were offline for planned maintenance, which is usually done during the summer. 
The still weather reduced the contributions from wind power to just 4% of total generation yesterday, down from the 40% it was producing in the first quarter of the year. Nuclear generation is also down, with National Grid having paid EDF millions to keep one reactor at Sizewell B offline until late September, in response to tumbling demand.
But the heat was mostly to blame for the electricity systems operator needing to call on coal yesterday. High temperatures make it difficult for gas plants to generate electricity at their maximum capacity and it is normal for their output to fall during heatwaves, energy data firm EnAppSys said. 
Gas plants require a steady flow of air through their compressors, energy technology company Wartsila said. It takes more energy to compress hot, humid air than to air which is cooler and drier, making plants less efficient as temperatures rise.
Despite the challenges, gas has continued to power the UK this summer. During the latest coal-free run, 40% of demand was met by gas, 19% by nuclear power and 17% by wind.
Although the UK was forced to turn to coal power yesterday, the contributions of the heavily polluting fossil fuel were minimal and brief. Ratcliffe provided under 1% of the UK's electricity for a few hours before being taken offline again. With temperatures falling across the country today, it's unclear when coal power will be summoned again.
In total, the UK has operated at nearly 3,300 hours without coal so far this year, over 60% of the total, National Grid said. That includes the longest coal-free streak recorded since the Industrial Revolution: 67 days between April and June, which ended when the coal units at Drax were powered on for routine tests.
Ratcliffe is one of just three coal-fired power stations on the National Grid network, including West Burton, scheduled to close by September 2021 and Drax, which is scheduled to stop burning coal from next March and take its coal units fully offline by September 2022. All coal-fired power stations are required to shut by 2024, a deadline that was advanced from 2025. earlier this year.
Kilroot, in Northern Ireland, is not on the National Grid's network and not subject to the closure deadline, but will be converted to burn gas by 2023.