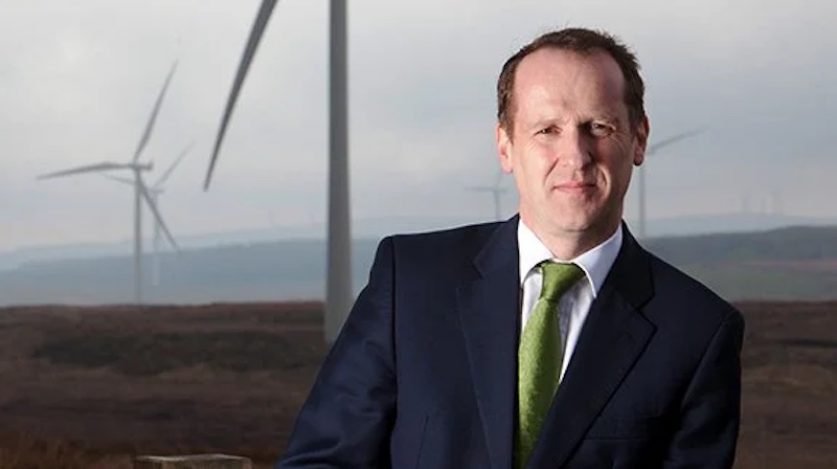 Scottish Power chief executive Keith Anderson is calling for the government to review the energy price cap, as he warns that the surge in wholesale gas prices could continue until 2023 and cause an "absolute massacre" of energy suppliers.
Anderson (pictured) says that the mismatch between capped consumer energy bills and spiralling prices in the wholesale market means even well-run energy suppliers are at risk of collapse. "There is a significant risk you could see the market shrink all the way back to five to six companies," he said. 
The survivors will likely be only suppliers backed by major multinational firms, he said, reversing years widening competition in the market.
"The only companies that can survive are the ones that are incredibly financially strong, have incredibly liquid balance sheets and access to lots of cash," he said.
A loosening of regulations a decade ago ended the dominance of the traditional Big Six, including Scottish Power, over the domestic retail supply market. At the beginning of 2021, the UK had around 70 energy suppliers.
16 have since folded, including 13 in the last six weeks as depleted reserves pushed natural gas prices to a level five times higher than a year ago. This cull has left more than two million households to be absorbed by other suppliers.
Energy suppliers will face another blow as two million more households come to the end of their fixed-rate deal—for which suppliers are typically hedged—and roll onto price-capped standard variable tariffs rather than signing up to new fixed tariffs, which have soared in price. With each of these households representing an additional cost of £1,000 to their supplier, suppliers could face unexpected costs of up to £4 billion over the next year.
Anderson said that many of the suppliers that have failed since August "weren't particularly well-run." But these costs will "hit the companies left in the market" and potentially take out even strong suppliers. The market may have to absorb £5 billion in losses by May. "We are in danger of just sleepwalking into an absolute massacre," he said.
He's urging the government and Ofgem to allow energy suppliers to raise bills before the price cap is next adjusted in April.
Already "customers are going to get a huge increase in their bills next April, and in October, and I suspect that they'll see another increase in their bills six months later," Anderson said. "Moving the energy price cap every six months is just completely hopeless. We need it to start changing more frequently."
Anderson suggests that a truly "reflective and flexible" price cap should be adjusted at least quarterly. More regular adjustments will also help pass reductions in wholesale prices onto consumers more quickly.
For households that can't afford increased bills, the government should institute a social energy tariff, he said.
Ofgem said the energy price cap will remain in place this winter "to protect millions of people from the sudden increases in global gas prices."
"We are also working with government to ensure that we have a sustainable energy market that works for all customers," the regulator added.