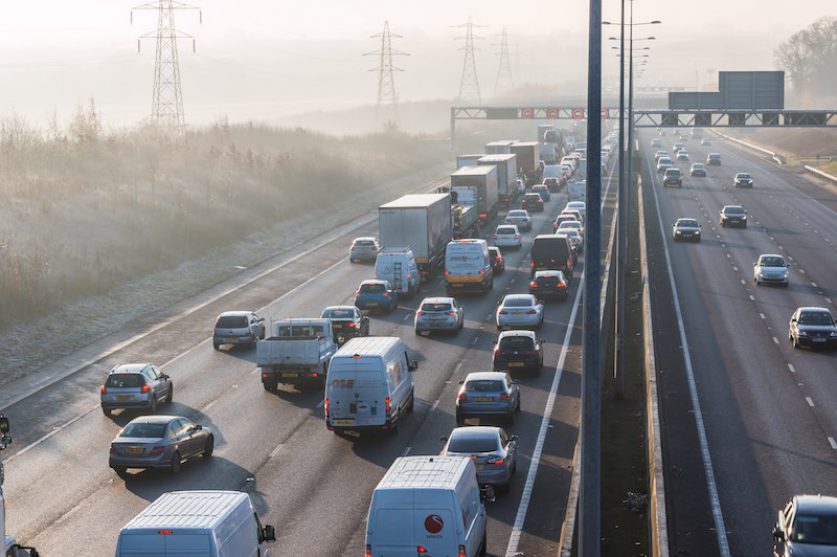 Greenhouse gas emissions from the UK's transport sector will plummet this year, as lockdown measures keep 97% of the population home.
Eco Experts has estimated that 12 weeks of lockdown measures will slash transport emissions by 28.22 million tonnes in 2020.
The transport sector, including road, train and air traffic, is the UK's most polluting. It contributed 119.6 million tonnes of carbon dioxide equivalent to the atmosphere in 2019–-34% of the country's emissions. In comparison, the energy sector—once the largest polluter—accounted for 26% of greenhouse gas emissions, with homes and businesses splitting the remainder.
A 28.22 million tonne drop in emissions from transport would be a nearly 24% decrease from 2019.
The bulk of the reduction will come from Brits avoiding driving. Car insurer By Miles found that 69% decrease in average daily miles driven by its customers during the lockdown, and the car insurance industry as a whole is expected to save £1 billion in claims as mileage plunges.
As cars have stayed in garages, air pollution levels have also dropped precipitously. Some cities have seen nitrogen dioxide (NO2) levels fall by as much as 60% compared to the same period last year.
However, reduced train schedules will also slash emissions. Commuters and travellers avoiding public transport is projected to trim 1.76 million tonnes of emissions from the UK's annual carbon bill.
Air travel has also cratered, by 59%, with a significant fall in emissions. The UK is responsible for 4% of the world's emissions from air travel.
Josh Jackman, analyst at Eco Experts, said: "The UK's carbon dioxide equivalent emissions are set to drop by 28.22 million tonnes during the first 12 weeks of lockdown, as cars leave the roads and planes stay out of the skies. 97% of the population is staying home and the longer that happens, the more pollution levels will drop—perhaps the only positive consequence from this global crisis."
Simultaneously emissions from the residential sector are expected to rise, by 4.11 million tonnes, as household energy consumption increases by 15% during the lockdown. That increase will be offset by an equivalent reduction in emissions from industry.
Much of those household emissions will come from increased gas consumption, to heat homes now used as office places and schools, and to cook meals that previously would have been eaten out. However, a survey released last week by Energy Systems Catapult revealed that few Britons are aware of the carbon footprint of home heating and cooking.
The forecasts follow recent figures from the government, which revealed greenhouse gas emissions fell by 45% in the UK between 1990 and 2019–with most of the progress attributed to a boom in renewable energy.