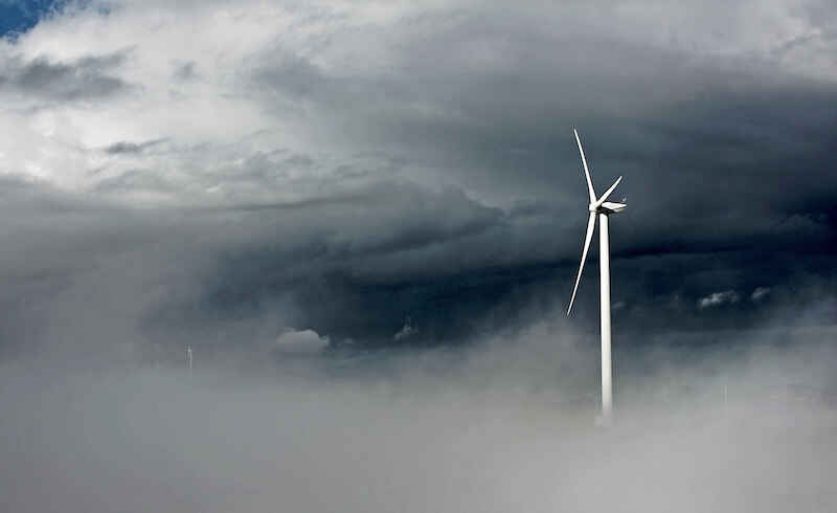 As Storm Eunice battered Britain on Friday, wind turbines supplied nearly half of the country's electricity and power prices—inflated for months as a result of the gas crisis—plunged.
One of the worst storms to strike the UK in decades, Storm Eunice brought gales of up to 122mph. The conditions, which toppled trees and disrupted transit, were a boon for Britain's 24.4GW of on- and onshore wind power.
At 5:30 am on Friday morning, wind power was supplying 48.5% of the country's electricity, National Grid Electricity Systems Operator (ESO) revealed. Total wind power output peaked at just under 16GW at midday.
Overall, wind contributed around 39% of Britain's electricity on Friday. That significantly outpaced recent averages, including January's average of 27.5%, figures from the grid operator show.
But while Storm Eunice gave a boost to wind turbines, it didn't set any new records for renewable power. The highest-ever share of Britain's electricity consumption met by wind power is 62.5%, set last May, while total wind power output hit 19GW in late January as the country was lashed by Storm Malik.
That's because over a certain speed, gales can cause stress to turbine blades that can lead to long-term damage. Some wind farm operators will shut down turbines when the weather is particularly fierce. That was the decision Vattenfall made for its Kentish Flats wind farm in the Thames Estuary, shutting down turbines by locking their blades in place.
More moderate gales on Sunday were actually better for wind turbines, which produced 52.5% of the country's power across the entire day, according to the ESO.
Fossil fuel power plants are also susceptible to damage during extreme weather events. Uniper was forced to take its gas-fired Grain power plant offline on Friday after strong winds took out one of its chimneys. The plant, capable of powering one million homes, remained offline on Monday, with Uniper unable to confirm when it will be switched back on.
With wind power surging and a major gas-fired plant offline, wind power generation outpaced gas generation on Friday, an average of 11.48 GW to 7.2 GW. That provided some relief to the electricity markets, where prices have been elevated for months as a result of natural gas shortages and low wind speeds.
According to the Telegraph, day-ahead UK power prices plunged by 11% to £140 per megawatt-hour (MWh) on Friday. The impact in Germany was even more dramatic. With output from the country's wind turbines at double its usual level, electricity prices there tumbled by more than two-thirds to their lowest level this year.
But the effect was temporary: day-ahead UK electricity prices rebounded by the following day. Meanwhile, consumers are bracing for a nearly 50% increase in energy bills from 1 April, after Ofgem increased the price cap to account for ongoing high natural gas and electricity prices.
Sources: National Grid ESO: Carbon Intensity GB Electricity System, Friday 19 February 2022
The Telegraph: "Power prices crash as Storm Eunice drives wind turbines"