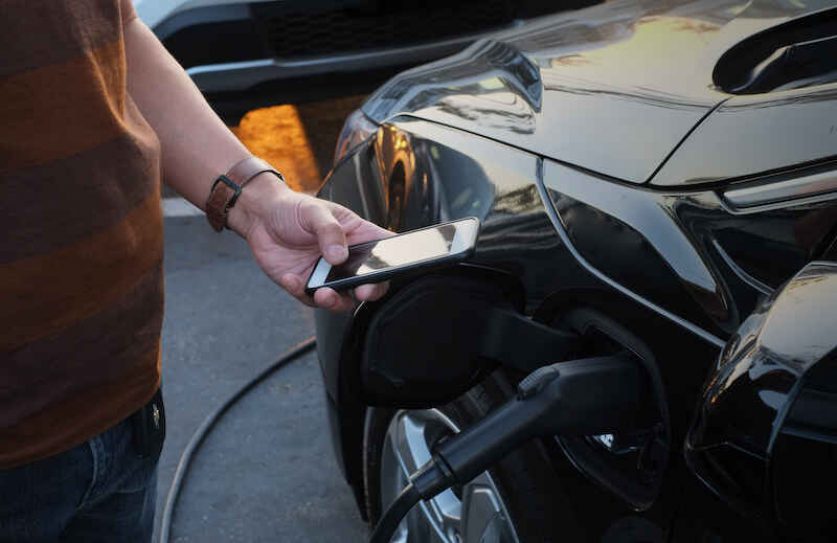 Charging electric vehicles when power supplies are high and demand low could save motorists £110 per year on refuelling and prevent the grid from being overwhelmed by millions of EVs, according to a new study.
With 11 million electric vehicles forecast to be on Britain's roads by 2030—when the sale of new fossil fuel vehicles will be banned—electricity demand will increase. Smart charging will help manage this step-up in demand and also help balance a grid reliant on intermittent renewables by recruiting EVs as distributed battery storage. 
Smart charging can also save drivers money, by helping them charge their vehicles when electricity is plentiful, such as when wind speeds are high, and demand is low, for instance overnight. Additionally, by offering their EV batteries as storage through vehicle-to-grid technology, drivers can even earn money, reducing the running costs of their vehicles.
New research by the Flexibly Responsive Energy Delivery (FRED) project, led by Evergreen Smart Power, has quantified these benefits of smart charging for drivers. The study recruited 250 members of the public who already had electric vehicles and were using myenergi's zappi charging points and software to charge them more efficiently.
Researchers used Evergreen's smart charging software platform to manage the participants' EV charging. The platform used artificial intelligence (AI) to shift charging times to maximise the efficiency of the grid and minimise the cost to the consumer. Participants then provided feedback about how smart charging impacted their driving experience.
The study found that drivers could save £110 per year through smart charging: saving £66 by charging their vehicles when electricity prices are cheap and earning £44 by offering their vehicles as storage for the grid.
Smart charging also reduced the carbon footprint of refuelling their electric vehicles by up to 20%, by scheduling charging when the electricity supply is greenest.
So when can you charge your vehicle to save money and carbon? The study found that early evenings—just as many people are getting home from work and flipping on the TV—was always expensive.
By contrast, 4a m is the best time to charge devices: few people are consuming electricity at that time. But the study noted that it's tricky to get drivers to plug their cars in at 4 am unless they have smart charging software that does it automatically. It also noted that windy afternoons were a suitable time slot and one that it's easier to incentivise drivers to use.
By and large, drivers weren't inconvenienced by the need to charge at certain times. The study found them "broadly supportive of the concept of smart charging."
Peter Bullock, project manager at Evergreen Smart Power, told Current± that "one of the big positives was people really do respond well to the incentives they're provided with, that was loud and clear throughout the project."
However, the study noted that drivers prefer having "real-time visibility and the feeling of full control" and "certainty as to EV running costs and the savings accessible by smart charging."
This can be provided through a dedicated app, particularly one that provides a high level of detail about energy consumption history and savings, researchers found.
The study also stressed the importance of half-hour settlement on the grid, to send more accurate signals from customers to energy suppliers and therefore enable a more flexible electricity system. Ofgem approved the use of half-hourly settlement in Britain's retail electricity market in April 2021 but not many suppliers have embraced it yet.
"If you're not being half-hourly settled, and the market doesn't know when you are using electricity, there's not that much you can get out of smart charging," Bullock warned.

Half hourly settlement will also enable the proliferation of time-of-use energy tariffs, offering electricity at different rates depending on supply and demand.