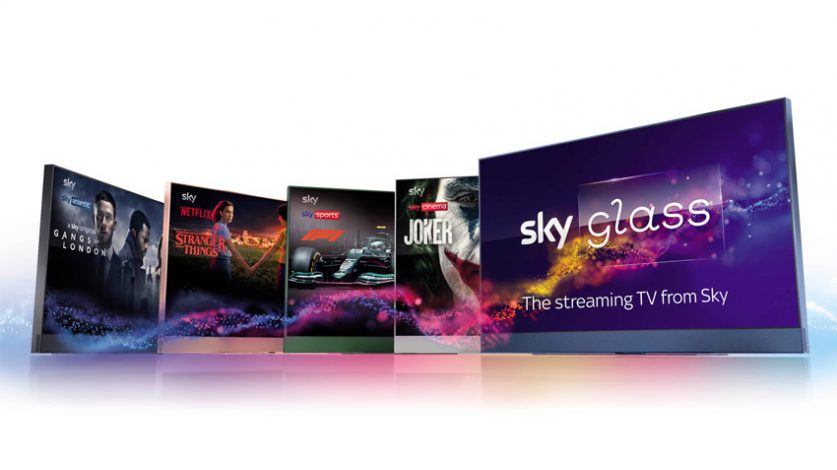 Sky, best known as a leading entertainment and telecoms provider have finally decided to foray into the lucrative but highly saturated world of smart TVs.
Sky Glass promises to combine a range of different tools and services in one place. It also offers the first chance for you to get the full Sky package without the need for an unsightly satellite dish protruding from your home; all you'll need instead is a decent internet connection. 
Flagship launches like this always come with a lot of noise (not least from the creator) so we've tried to cut through it to give an honest and comprehensive rundown.
So what's the deal?
Like all good TV ranges, Sky Glass comes in three different sizes, ranging from fairly large to very large indeed. All models are available either as an outright product or on a subscription basis.
43 inches, costing £649 outright or £13 per month on a 48-month contract (£10 upfront) or £26 per month on a 24-month contract (£20 upfront)
55 inches, costing £849 outright or £17 per month on a 48-month contract (£10 upfront) or £34 per month on a 24-month contract (£20 upfront)
65 inches, costing £1049 outright or £21 per month (£10 upfront) on a 48-month contract, or £42 per month on a 24-month contract (£20 upfront)
As far as prices go these are fairly consistent with other similarly sized smart TVs so, while still being fairly costly, they aren't anything out of the ordinary.
Appearance & Hardware
At a glance it's slightly larger than you might expect from the almost 2 dimensional aspect of modern televisions. However, when you see the 4K OLED screen and hear the 6 speaker Dolby Atmos system, you may forgive it for being on the chunkier side. As well as being available in three sizes, it also comes in 5 different colours, white, black, green, blue and pink.
Behind the scenes a quad-core ARM A55 processor is pulling the strings, providing more than enough horsepower to seamlessly navigate Sky's interface.The TV itself comes with 3 HDMI ports but as the TV requires no top box or or speakers you'll be hard pushed to find use for all of them. Sky Glass's TV and remote both come equipped with microphones and can be used to dictate what you want to watch (we all know how much of a pain punching it in on using the remote can be) or switch to another connected device e.g 'Sky, switch to Playstation 4'.
What's included?
Those familiar with Sky Q will recognise the user interface that Sky Glass offers. Much like other all-in-one streaming platforms, it gives you easy access to many services in one place with an overview of suggested media which adapts over time depending on your viewing habits.
Something new that Sky have brought to the table is the playlist feature. It allows you to select the shows and movies you want to watch and sorts them in one bingeable place. The handy thing is that if you want to watch a TV show where different seasons are hosted on different streaming services it lines them up for you. Saving you app hopping when you could be binge watching.
Unfortunately you don't get any of Sky's numerous entertainment, sports or cinema packages just by virtue of purchasing their new television. Additional bolt-ons are of course available, such as the Sky Ultimate package which comes with their entertainment channels as well as Netflix and costs £26 per month. All the usual sport and film packages are easily purchased for those that want them
You can also 'beam' your Sky Glass to services to another screen in your home, essentially giving you two Sky Glass TV's for £10 extra per month.
Our verdict?
Sky TV will certainly give other leading brands a run for their money. The easy to navigate, all in one interface combined with ability to add on tv services and inbuilt Dolby Atmos sound system make it great for those who want everything in one place. As far as price goes it's certainly a good deal. When you consider that equivalent Dolby speakers alone go for around £300 you realise that you're getting a lot for your money. While the display won't match some of the top end OLED screens it's certainly on the higher end of the spectrum.
The all in one offer does have some downsides however. For example if you're not particularly interested in Sky's additional products or already have a stereo system for your TV then Sky Glass may not seem as appealing. This being said, it's still a perfectly good standalone TV with a solid interface and good specs.