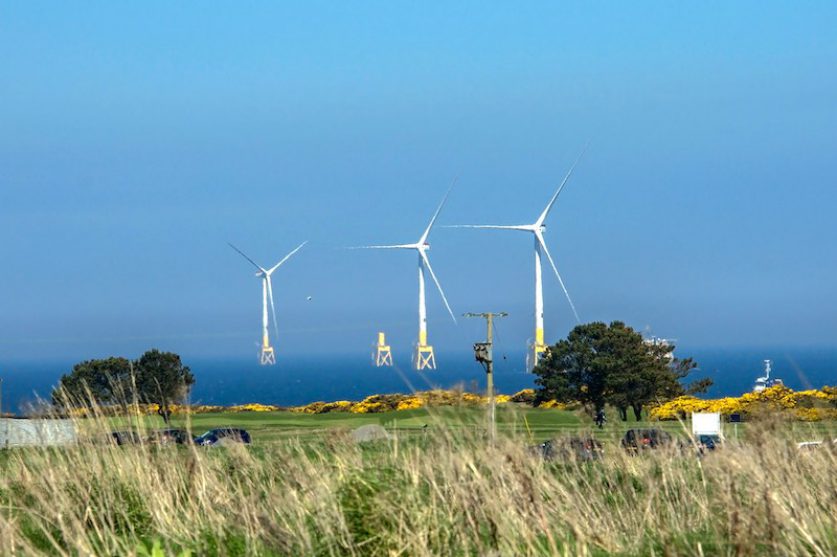 The Scottish government has outlined its ambition to power eight million homes with offshore wind within ten years.
Under the plan, hundreds of wind turbines will be installed off the Scottish coast over the next decade, taking capacity to 11GW—more than a third higher than the original target of 8GW by 2030.
Scotland currently has 1GW of offshore wind, with an additional 4.6GW already in the development pipeline.
Energy Minister Paul Wheelhouse said expanding offshore wind would support the country's economic recovery from coronavirus and 2045 net-zero ambition.
"Our seas are host to some of the best offshore wind resources in the world and our ambition to capitalise on our offshore wind generation capacity is part of the bold action we are taking to support economic recovery and become a net-zero society," he said.
Scotland has also published a Sectoral Marine Plan identifying areas suitable for commercial-scale offshore wind projects. This plan will direct the first seabed leasing process led by the newly devolved Crown Estate Scotland. 
The plans have been developed following consultations with the industry, coastal communities, stakeholders and environmental organisations.
"The plan is based on extensive consultation and seeks to balance the vital importance of our marine environment and other key sectors with the huge ambition and opportunity we have for the offshore wind sector," Wheelhouse added.
Scotland already has a robust renewable sector, including onshore wind and solar developments, which in March was meeting 90% of the country's electricity demand and is forecast to reach 100% of demand by the end of the year.
But with electricity consumption expected to rise as the country transitions to electric vehicles (EVs) and electric heating, the boost to offshore wind has been welcomed by the renewables sector and environmental campaigners.
Ben Miller, senior policy manager at Renewables Scotland, said the revised target was a "milestone moment" but cautioned "there is much work to do" to reach it.
He said: "If we are to deliver on those stretching climate targets it's imperative that we use every tool in our armoury and continue to work together to find creative solutions to the further deployment of the cheap, popular renewable energy technologies which are already delivering environmental and economic benefits across Scotland."
WWF Scotland called on Westminster to work with the Scottish government to ensure the investment in wind power benefits local communities.
Fabrice Leveque, head of policy at the charity, said: "Each project creates hundreds of jobs and can help put Scotland on a path to a green recovery. In order to ensure local communities and businesses benefit, it's imperative the UK and Scottish Governments work closely together to ensure as much work as possible goes to local supply chains."
Last month Boris Johnson outlined a vision of powering every home in the UK with offshore wind by 2030, boosting an initial target of 30GW capacity by that date to 40GW. The industry has estimated this will require £50 billion of investment. The country currently has 10GW of offshore wind, which contributed 11.6% of electricity generated in the second quarter of the year.