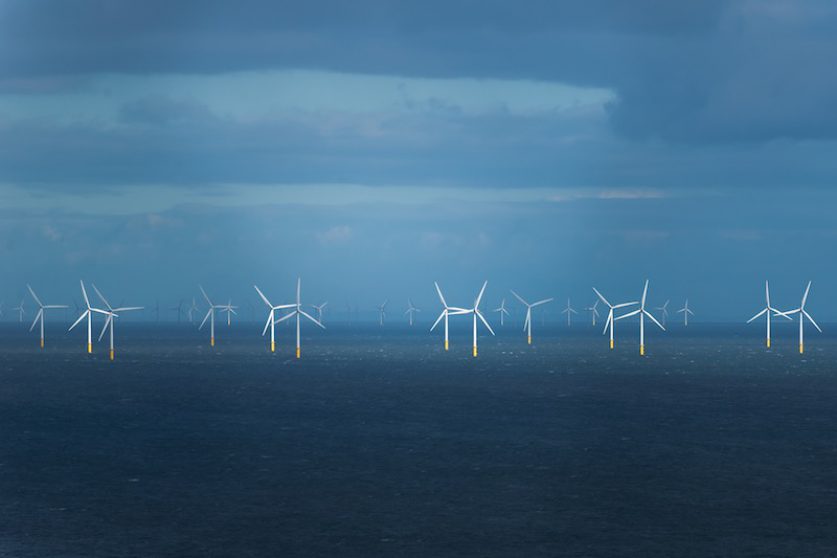 Blustery weather, including winter storms, gave a boost to wind power and made renewable resources the UK's largest source of electricity in the first quarter of the year.
Renewables generated 35.4TWh of electricity between January and March of this year, according to energy consultancy EnAppSys. That was 44% of the UK's total generation and more than the 32.8% generated by fossil fuels (29.1% from gas-fired plants and 3.7% from coal plants). 
Nuclear plants contributed another 15%, with its lowest level of generation since 2008, as ageing reactors were taken offline for repairs and maintenance. Imports accounted for the final 7%.
The surge in renewables output—up from 27.2TWh in the first quarter of 2019—was largely due to record contributions from wind power. Wind output was up higher than 10GW for 63% of the quarter, as the UK was lashed with severe storms Ciara and Dennis.
Storm Ciara's high winds battered the UK's homes and disrupted transport but propelled wind power to two new milestones. Wind turbines generating 56% of the country's electricity at 2 am on Saturday 8 February, the highest percentage at any one time, and 44.46% across the whole day.
A drop in demand at the end of the quarter due to coronavirus restrictions also led to a surge in renewable use. Renewables are among the cheapest power sources and are thus prioritised when electricity demand falls. The greatest impact of the lockdown will be felt in the second quarter of the year, however.
But Paul Verrill, director of EnAppSys, said the first quarter was already a "significant milestone" for the UK's energy system.
"With weather likely to return to more typical patterns in future quarters, the 45% of electricity generation from renewable sources in the quarter is likely to be a temporary high. However, given recent trends which show that renewables are becoming an increasingly dominant player in Britain's power mix, the continued build of offshore wind farms and the resurgence in onshore wind should see these levels being achieved more often in the longer term."
A de facto ban on new onshore wind farms was lifted by the government in a significant policy U-turn earlier this year. Restrictions on onshore wind competing for subsidies, in place since 2016, sent onshore wind installations plummeting to their lowest level in a decade last year.
Around the world, renewable installations accounted for nearly 75% of all new generating capacity installed last year, according to new data from the International Renewable Energy Agency (Irena)