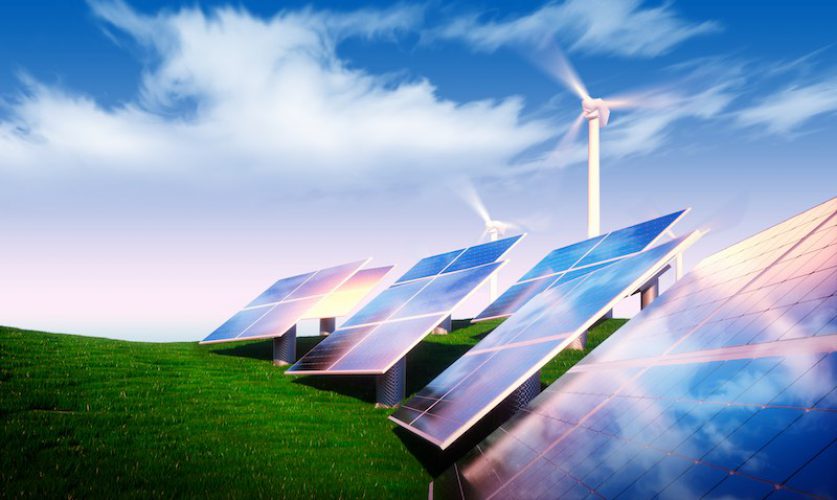 Renewable resources supplied a record 37.1% of the UK's power last year, up from 33.1% in 2018, the government's latest Digest of UK Energy Statistics (DUKES) revealed.
Wind power alone accounted for 20% of all power generation, or 64 terawatt-hours (TWh), evenly split between on and offshore generation. Wind speeds across the year were down, by an average of 0.31 knots, from the year before, but this was more than offset by new capacity coming online, driving up wind generation by 13%.
New onshore facilities included the 177MW Dorenell and 88MW Kype Muir wind farms in Scotland and the 97MW Clocaenog Forest in Wales, pushing onshore generation up by 6.5%.
Meanwhile, offshore generation was up by 20%, as some stages of the 1218MW Hornsea 1 wind farm coming online, along with the expansion of the Beatrice wind farm and the first 179MW stage of East Anglia 1. All three of these offshore wind developments were subsided by Contracts for Difference (CfD).
The Department of Business, Energy and Industrial Strategy (BEIS) also attributed the growth in renewables' contribution to the decline in coal generation, as more coal plants went offline in advance of the government's 2024 deadline. The 2GW Cottam power station was mothballed in September, and across the year coal generation fell to an all-time low of 2.1%. 
However, fossil fuel generation dipped just slightly, 0.3%, with coal closures and a dialling back of natural gas use being offset by a rise in oil generation at the new Clair Ridge oilfield
Overall, renewables, including wind, solar and hydro power, produced 121TWh of the 325TWh of electricity generated by all sources in the UK. 
With nuclear added, low carbon generation accounted for 54.5% of all power production. However, across the year natural gas remained the UK's largest single source of electricity, contributing 40.6% of the power sent to the grid.
The tide is turning, however. In the third quarter of last year, between July and September, renewables overtook natural gas as the UK's largest source of power for the first time ever. 
Advocates of renewable energy hailed the progress made last year. Melanie Onn, chief executive of Renewable UK, said: "At a time when so many things seem uncertain, the consistent rise of renewables, keeping the UK powered up, bringing billions in investment in new energy infrastructure and creating highly skilled jobs all over the country, is a terrific success story we can all be proud of.
"Today's figures confirm just how far we've come in the revolution in power generation; in 2010 less than 7% of our electricity came from renewables—now it's 37%."
However, she pointed to future struggles, including the more daunting tasks of decarbonising transport and heating. She also called for further innovation in the renewables sector.
"We need innovative power sources like floating wind, wave and tidal power, renewable hydrogen and a massive expansion in battery storage to get us to net zero emissions as fast as possible—so there's no time to rest on our laurels."
Meanwhile, 2020 already looks likely to shatter 2019's records. Preliminary figures released by BEIS in June showed that renewables contributed 47% of the UK's electricity in the first quarter of the year, as the country was lashed with windy winter storms.