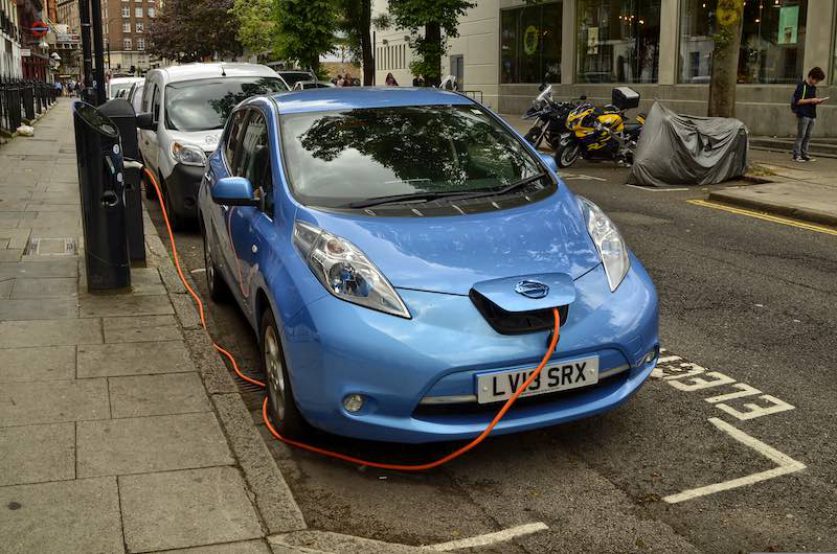 Octopus Energy is offering its customers the chance to lease an electric vehicle at a discount and use it to trial new vehicle-to-grid (V2G) technology.
The green energy supplier is encouraging households it supplies to participate in the trial through its sister company Octopus Electric Vehicles, and giving them access to the Powerloop V2G Leasing Bundle.
As part of the bundle, customers will receive a "competitive" lease on a Nissan Leaf, a new electric vehicle charger for free, and £30 off their energy bills each month.
That Nissan Leaf will then be recruited as a battery pack which can power their home off-grid and send electricity back to the grid, using vehicle-to-grid technology. The Leaf, the UK's best-selling pure electric vehicle, is also only of the only plug-in vehicles on the market capable of discharging power back to the grid.
Using V2G technology, the car will charge when energy is greener and cheaper. When more energy is generated by fossil fuels and more expensive, the batteries will discharge that stored energy to power customer's homes or help balance the wider electricity grid. Octopus says that the battery on ten Nissan Leafs could power 1,000 homes for an hour.
V2G technology will help the UK make the most of intermittent renewable resources like wind and solar power and make balancing the future green grid easier.
The trial, running until March 2021, is recruiting households living in the coverage area of electricity network operator UK Power Networks, in London, East Anglia and South East England.
Households need to receive their energy from Octopus or switch to the renewable supplier and have a smart meter. They also need to own their own home and have a driveway or off-street parking where engineers can install a Wallbox Quasar Charger.
Interested customers living in the trial area and meeting the requirements can register through Octopus Energy's website.
Participating households will be able to lease a new Nissan Leaf through Octopus Electric Vehicles from £225 a month, savings of up to £1,080.
They'll also receive £30 credited on their Octopus Energy accounts each month, provided they complete 12 full charging cycles each month. One cycle involves plugging your Nissan Leaf in before 6 pm and staying plugged in until at least 5 am the next day. Households will get access to an app allowing them to control their charging schedule.
Octopus already offers a tailored energy tariff for EV drivers. The Octopus Go time of use tariff gives drivers access to four hours of nighttime charging at 5p per kilowatt-hour—a significant discount from daytime electricity prices.
Octopus recently inked a partnership with Volkswagen to "fast-track" the adoption of EVs. Drivers of a Volkswagen EV, including the popular e-Golf, will get access to the Octopus Go Tariff and have their Octopus accounts credited with £90 by the car manufacturer—the equivalent of 8,000 free miles of driving with the ID.3, Volkswagen's newest electric car.
After years of slow sales, electric vehicles are finally taking off in Britain, with pure electric vehicles holding a 4.7% market share in July. Uptake will likely accelerate further after the government announced plans last week to ban the sale of new petrol, diesel and hybrid vehicles by 2030—five years earlier than previously planned.