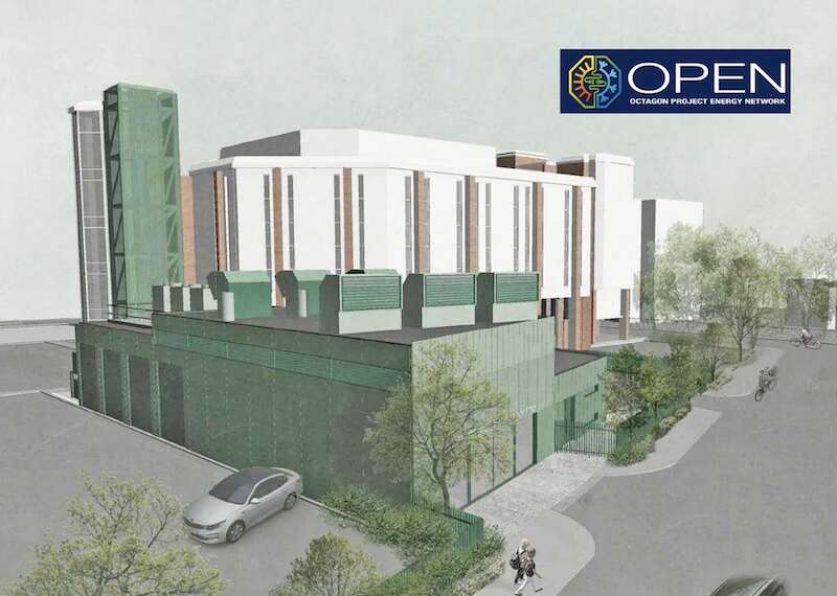 Surplus heat from factories, incinerator plants and disused mine shafts will soon warm tens of thousands of homes across the UK, as the government pours £44 million into low-carbon heating projects.
The new funding package from the Department of Business, Energy and Industrial Strategy (BEIS) responds to the urgent need to decarbonise the heating of homes and offices, which accounts for nearly a third of the UK's carbon emissions. It backs 14 projects, three of them new heat networks that will replace individual gas boilers, reducing residents' energy bills and carbon footprints.
In Manchester, £14.7 million in grants and loans will support the development of the Octagon Project Energy Network (OPEN) (pictured). Once completed, OPEN will distribute low-carbon electricity, heat and cooling to buildings in five square kilometres in Manchester's city centre, including Manchester University NHS Foundation Trust, other university buildings, student accommodation blocks, social housing units and commercial premises. The network will be supplied by a Combined Heating and Power (CHP) plant, supplemented by solar panels and air source heat pumps.
Richard Everton, Chairman of the Manchester Energy Partnership said of the scheme's new funding: "The support received from both the local authority and central government is proof that multiple agencies can work together with the private sector to bring about infrastructure projects that will benefit communities, in pursuit of fuel efficiency and to reduce carbon emissions in our major cities. Manchester is taking a strategic lead in achieving 'Net Zero North West."
In the London Borough of Bexley, £12 million will help fund the development of one of the UK's largest heat networks, harnessing heat from a waste incinerator plant to warm 21,000 homes.
The incinerator, in Belvedere, receives 785,000 tonnes of non-recyclable waste each year, delivered on barges on the Thames, then burned to generate electricity and reduce the waste headed to landfills. The scheme to capture and redirect the heat from the plant is part of an ambitious plan by Vattenfall to bring low-carbon heating to 75,000 homes across the Thames Estuary over the next decade.
Dougie Sutherland, CEO of Cory Riverside Energy, owner of the plant, said: "This is a very major step towards net zero, providing low-carbon heat for thousands of homes and businesses in Bexley and its surrounding Boroughs."
However, the plant has drawn local opposition, with MPs, councillors and community groups objecting to Cory's proposals to build a second incinerator on the site, over concerns about air pollution. In October 2020 London Mayor Sadiq Khan made the "difficult decision" to abandon a legal challenge to the plant, citing the potentially huge cost of the case.
Green campaigners have also argued that burning waste to generate electricity is adding to greenhouse gas emissions. Cory Riverside Energy counters that its carbon footprint is much lower than that of landfill waste and says it is exploring options to outfit the plant with technology to capture emissions before they are released.
In the Cambridgeshire village of Swaffham Prior, a network of hybrid ground and air source heat pumps will allow 300 properties off the gas network to transition away from using oil for heat. BEIS is backing the community-led project, thought to be the first of its kind, with £3.3 million.
Heat networks are a pillar of the government's plan to phase out individual gas boilers—a "vital part of eradicating our contribution to climate change by 2050," said Lord Callanan, minister for climate change.
"Today's funding package will accelerate the development of low-carbon technologies that will both reduce emissions, and ensure people's homes are warmer, greener and cheaper to run," he added.
"Securing a lasting move away from fossil fuels to heat our homes will allow thousands of households and businesses to feel the benefits of projects that are breaking new ground and making our villages, towns and cities cleaner places to live and work."
A further £14.6 million will support 11 other clean heat projects in England, Scotland and Wales. A project led by Durham University will consider whether water in flooded, abandoned coal mines can be harnessed as a low-carbon, geothermal source of heat. The University of Glasgow will try to improve the efficiency of air source heat pumps.