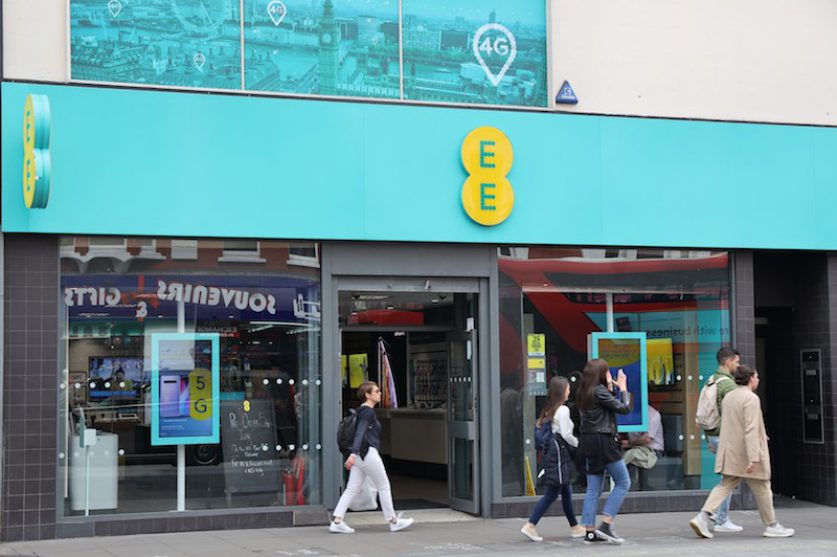 EE continues to expand its next-generation mobile network, switching on coverage for nine additional UK towns and cities last week.
EE customers (with 5G-enabled smartphones) will now be able to hop onto the network in the busy parts of Borehamwood, Weybridge, Newton-le-Willows, Paisley, Chesterfield, Southend-on-Sea, Inchinnan, Stirling and Westhoughton.
The new locations take EE's 5G footprint to 80 UK cities, a year after the network launched. The network last expanded its coverage in March, reaching 21 new locations.
Marc Allera, CEO of the Consumer Division at BT (which owns EE), said Friday: "One year ago today, we started the UK's 5G journey by launching the first 5G network. In just one year, we've already seen a number of incredible experiences and real-life use cases that 5G enables, both for consumers and businesses, and there's still so much more to come. 
"5G technology will continue to make our customers' lives easier, make our networks more efficient, and help launch entirely new ideas and businesses that we haven't yet imagined."
EE has told customers to expect speeds of between 100 and 150Mbps on its 5G network "even in the busiest areas." And that corresponds with a recent speed test from Opensignal, which found customers were achieving average download speeds of 149.8Mbps, significantly higher than the 33.1Mbps averaged on the operator's 4G network. 
However, that 5G network is available to customers only 6.1% of the time—understandable given the network's limited footprint.
In comparison, Vodafone's 5G network averages speeds of 122.1Mbps and is available 4.4% of the time.
EE claims that its 5G network peaks at speeds of 1Gbps and that "some customers" may receive these gigabit speeds, although that's likely to be rare.
However, the new additions make EE's 5G the fastest and most widely available in the UK.