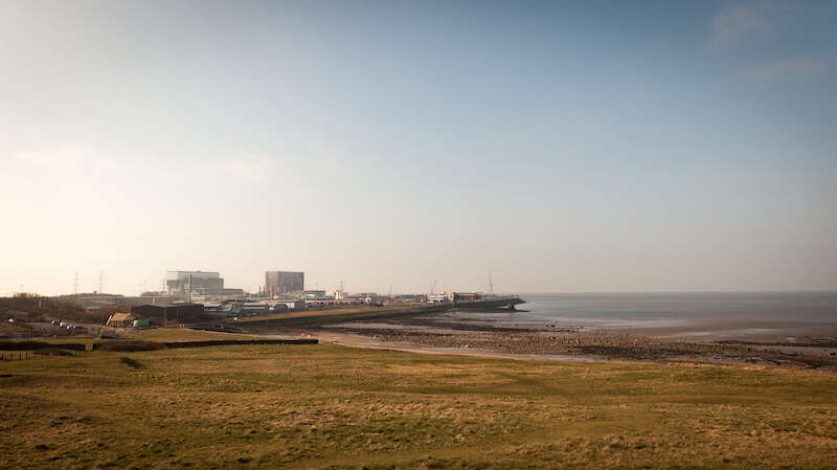 Just days after EDF announced that its Dungeness power station won't come back online, the French utility giant has admitted that two other members of its UK nuclear fleet are at risk of early closure.
The Times reports that safety issues could force Torness in East Lothian, Scotland and Heysham 2 (pictured) near Lancaster to shut years ahead of their planned 2030 closure dates. 
The admission follows announcements of early closures of Hinkley Point B and Hunterston B and as the UK's next generation of nuclear reactors struggles to get off the ground. The loss of nuclear power stations, until recently responsible for generating a fifth of Great Britain's electricity, could jeopardise the country's campaign to phase out fossil fuels and meet its legally binding decarbonisation targets.
EDF owns all eight of the UK's active nuclear power stations, having purchased them in 2008 and secured regulatory approval to extend their lifespans. While only the youngest, Sizewell B in Suffolk, was expected to continue generating electricity beyond 2030, EDF hoped the seven older advanced gas-cooled reactor (AGR) plants could keep running until at least 2023 to bridge the gap until new reactions come online.
"Existing nuclear can hand over directly to the next generation of nuclear power stations without the need for more fossil fuel generation," EDF claimed in 2014.
However, that plan has faltered. Just one new nuclear power station—Hinkley Point C—is currently under construction. It's also over budget and behind schedule, not expected to generate power until 2026.
While the government is poised to grant permission to EDF's Sizewell C, plans for two other plants in Cumbria and Wales have foundered, with the Japanese developers pulling out over lack of government investment in the projects. Meanwhile, another proposed plant has Bradwell may be doomed by security concerns about the Chinese state-owned developer CGN.
Meanwhile, safety concerns have reduced the lifespan of several AGR plants and could fell those still running.
EDF has said the issues facing Dungeness B are unique, related to its troubled 18-year construction. The plant has been offline since 2018 when inspections revealed corrosion to steel boilers and problems with components in the reactor that hold fuel. EDF poured £200 million into repairs on the plant, hoping to take Dungeness B to its intended closure date of 2028, but ultimately judged the risks "unacceptable." The plant won't restart.
But other AGR plants are already throwing up problems. Cracks in the graphite cores have shelved Hinkley Point B and Hunterston B for months. EDF spent £200 million researching the problem, demonstrating the plants could withstand a one-in-10,000 years earthquake. Both are currently generating electricity but will shut next year, a year ahead of their planned closure in 2023.
Four other plants are of similar construction and could also be taken offline early by cracking, Richard Bradfield, chief technical officer at EDF, told The Times. Plants can only safely continue generating electricity for three or four years after cracking develops, he explained.
Heysham 1 and Hartlepool were already expected to shutter by March 2024, although EDF is "reviewing the possibility" that they could run beyond that date if they don't develop cracks by 2023.
The younger Torness and Heysham 2 aren't expected to shut until 2030, but Bradfield warned that cracks could also expedite their closing. They've generating nearly as much power in 33 years as Hinkley and Hunterston have in 45, Bradfield explained. "That's important because it's the irradiation or the amount of electricity that's generated that effectively is the input to when the graphite cores will start cracking," he said.
Even without early closures at Torness and Heysham 2, Great Britain is likely to lose five nuclear power stations and half of its nuclear capacity by 2024, blowing a hole in its electricity supplies and most likely making it more reliant on gas-fired plants.
Iain Staffell, senior lecturer in sustainable energy at Imperial College London, estimated the loss of Dungeness alone will increase the country's power sector emissions by 6% next year.
But whether nuclear has a role in a low-carbon electricity system is controversial. Greenpeace has called nuclear an "appalling distraction" from most "cost-effective" renewables.
The multi-billion-pound budgets and decades of planning new nuclear power stations require may mean the argument has already been lost. Martin Young, an analyst at Investec, told The Times that the looming power gap may favour developers of other low-carbon power sources and storage solutions. "Whatever you may think about new nuclear—and it's clear that the industry has not shown it can deliver new-build on time and at a competitive price—we are not going to be getting a new nuke [beyond Hinkley Point C] any time soon," he said.