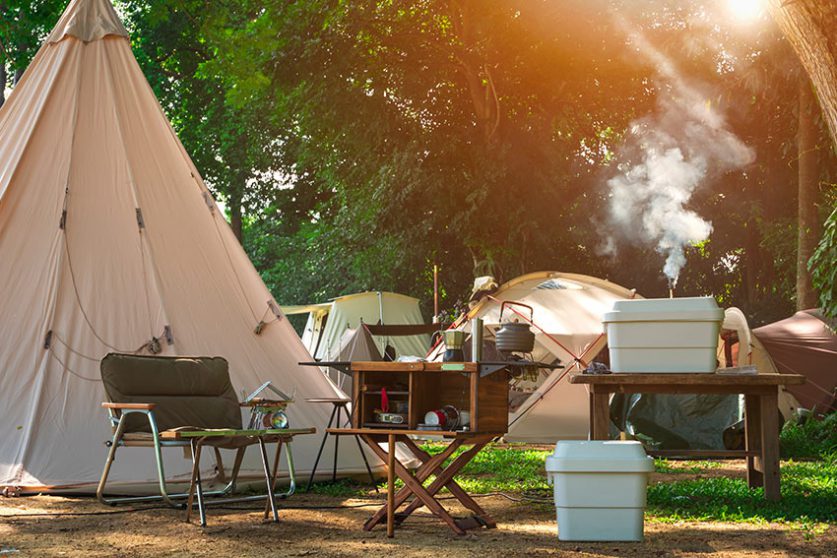 Restrictions caused by Covid have forced us to re-evaluate our holiday expectations for 2021. A sunny trip to Portugal? Seems unlikely. Skiing in the French Alps? Think again.
Considering the limited options and potential risks associated with trying to get abroad this year, many will be opting to stay in blighty for their summer getaway.
We could just have written a short piece about staycations, but that just wouldn't have been zeitgeisty enough. So we decided to throw one more topical caveat in. Sustainability. While holidays in the UK are by their very nature more eco-friendly than their more exotic counterparts thanks to the ability to avoid flights, there are always extra ways to make sure you stay safe and have a good time while keeping mother earth happy.
Go camping
The ultimate way to reduce emissions? Don't create any. Camping, one of the great British pastimes, is a fantastic way to have a low carbon holiday. It goes without saying that you need to clear up after yourself when you go home, but the best option is not to create any mess to begin with. Things like reusable cutlery and cups will ensure that you leave as little rubbish as possible. If you really want to go for green you can only pick campsites that have certain sustainable practises such as solar powered showers. If you're really brave, cycle there too.
Think about how you get there
One of the biggest contributing factors that's going to affect how eco-friendly your staycation is is how far you travel. Now, we're not saying you need to camp in your own back garden, but choosing somewhere local will help mitigate your carbon footprint. If you do decide to go slightly further afield then you should consider how you do it. For example, it's always worth considering the bus or train as an alternative to driving. Public transport isn't always feasible, but it's always worth bearing in mind. If getting a local flight really is a must (and we would strongly advise against it) try and find services with high occupancy rates and planes with a higher sustainability rating
Choose your destination on it's green merits
If you're serious about trying to make your staycation as green as possible then there are a few things you should be looking out for. The proportion of renewable energy used at your destination is a great thing to know. Many hotels, hostels and guesthouses will make good use of hydro, wind and solar power. Where food is sourced is another key one. Try and stick to places that source their produce from local farms and or better yet grow / farm it themself. This kind of information isn't always available online but don't be afraid to ask if you aren't sure.
Other tips…
Choose reef-safe sunscreen: Sun-lotion is a huge contributor to damaging ocean life. If your planning a trip to the shore and aren't sure what SPF's are going to be fish-friendly then check out Save the Reef's list.
Don't go shopping before: While it's always tempting to splash out on a new wardrobe, we're sure you look great. Anything you do need to buy you can always try and get second hand.
Eat veggie: We know that when you're on holiday it's easy to indulge, but choosing the salad over the steak is a great way to boost your eco points. If you do opt for meat, try and make sure it's sustainably / locally sourced.
Use biodegradable products: A bit of mess is unavoidable. You can mitigate any waste by making sure any disposable products you do use are biodegradable.