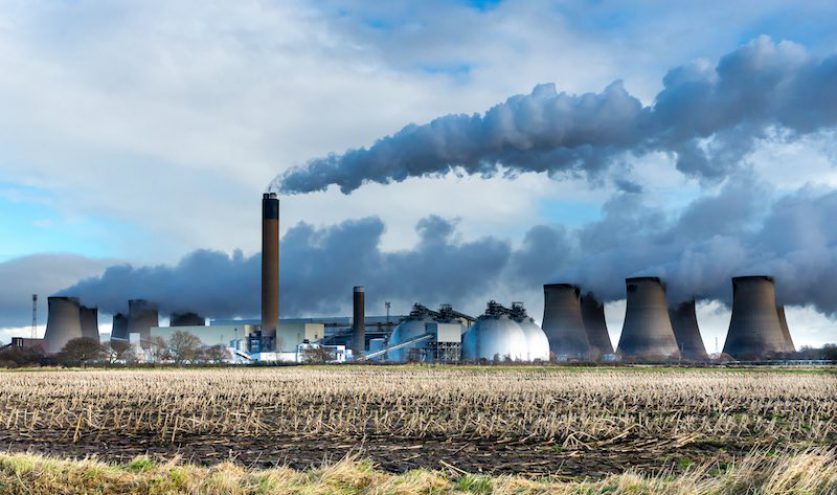 A coal plant that has been converted to burn biomass, attracting more than one billion pounds of green energy subsidies, is the UK's largest emitter of carbon dioxide.
New research from nonprofit think tank Ember reveals that the Drax power plant (pictured) in Selby, North Yorkshire is in fact the third-largest carbon emitter in Europe, emitting 14.8 million tonnes of CO2 per year. It's outpaced only by Poland's Bełchatów power station (30.1m tonnes of CO2) and German power station Neurath (18.7m tonnes). Those power stations both burn lignite, the dirtiest form of coal, as do five other entries in the top 10. 
Drax previously burned hard coal. All but two units of the plant have been converted to incinerate wood pellets to generate electricity. Drax claims burning this biomass is sustainable and carbon-neutral because the trees removed the CO2 from the atmosphere as they grew. 
Some scientists disagree, arguing that incinerating wood pellets isn't carbon neutral or sustainable because mature trees take generations to grow. This means burning pellets creates a carbon debt that won't be paid off for decades. Additionally, demand is so high that biomass is being sourced not just from wood waste but rather harvested, including from mature forests, disrupting ecosystems.
Ember also says Drax is responsible for emitting high levels of particulate matter (PM), a type of pollution linked to asthma, lung cancer, respiratory and cardiovascular diseases, birth defects and premature death. Drax is among the top five largest emitters of PM10 air pollution in Europe, according to the think tank's study.
However, the UK government continues to classify biomass as renewable, allowing Dra's FTSE250-listed owner to draw £832 million in government subsidies in 2020 and £790 million in 2019.
Phil MacDonald, chief operating officer of Ember, said: "Recent science demonstrates that burning forest biomass for power is unlikely to be carbon-neutral and there's a real risk that it is responsible for significant emissions.
"Before the government spends more taxpayer money on biomass, we should make sure we know we are getting the emissions reductions that we are paying for."
Drax disputed the findings, saying Ember's "interpretation" of the plant's carbon dioxide emissions is "inaccurate and completely at odds with what the world's leading climate scientists at the UN Intergovernmental Panel on Climate Change (IPCC) say about sustainable biomass being crucial to delivering global climate targets."
"Drax Power Station produces 12% of the UK's renewable electricity, keeping the lights on for millions of homes and businesses," a spokesperson added. "We have reduced our emissions by more than 90% in the last decade and Drax is now one of Europe's lowest carbon energy generators."

Drax insists it will be "carbon negative" by 2030, which it says it will achieve by fitting carbon capture and storage (CCS) technology to its biomass plants.
The government also rejected the findings. A spokesperson for the Department of Business, Energy and Industrial Strategy (BEIS) said that biomass is a "key element" of the plan to reach net-zero.
However, investors are beginning to question Drax's green cred. Last month the firm was removed from an investment index of clean energy companies run by S&P Global Dow Jones over concerns about the sustainability of biomass.

In February, Drax dropped controversial plans to convert its two remaining coal units to burn gas, following a three-year legal battle mounted by environmental charity ClientEarth.
The company also this month faces prosecution by the Health and Safety Executive after allegations it exposed employees to wood pellet dust hazardous to their health.